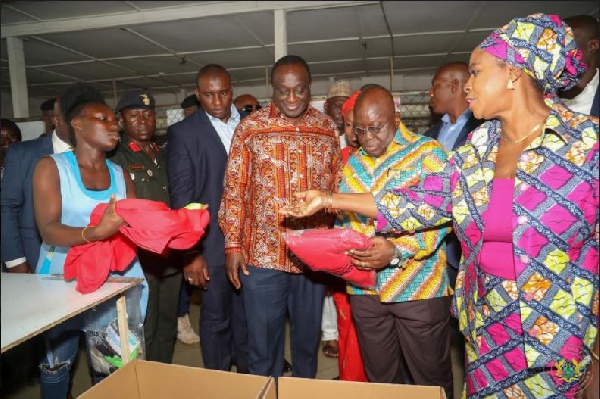 Tue, 15 Aug 2017 Source: www.ghanaweb.com
President Nana Addo Dankwa Akufo-Addo, says his government is in the process of finalising Ghana's new Africa Growth and Opportunity Act (AGOA) export strategy and action plan, to boost the volumes of exports to the United States to $500 million by 2020.
With Ghana unable to sufficiently exploit the AGOA opportunity, and, thereby, not realising any significant gains, having only exported items worth only $29 million to the United States in 2016, President Akufo-Addo noted that his government is working to put in place measures to ensure that the country takes full advantage of the U.S. market through the AGOA initiative.

"We aim at increasing our export volumes under AGOA to $500 million in 2020, which will create in its wake hundreds of thousands of jobs. The target is ambitious, but certainly achievable," he said.

The President made this known on Monday, August 14, 2017, when he launched the expansion project of Dignity-Do-The-Right-Thing Apparel, at the Adjabeng Free Zone enclave, in Accra.

Dignity DTRT is a Ghanaian-American joint venture initiative, which is currently employing some 1,600 people, and is set to export $30 million worth of clothing to the United States of America by 2018, under the Africa Growth and Opportunity Act (AGOA).

Dignity DTRT, President Akufo-Addo noted, is a key part of the projection for increasing Ghana's export volumes under AGOA to $500 million by 2020, with the company expected to contribute some $82 million out of this amount.
President Akufo-Addo noted that the "U.S. clothing market is worth $100 billion dollars a year. The countries of Eastern and Southern Africa are currently exporting to this market several billion dollars' worth of clothing every year. We, in Ghana and West Africa, must match them. The opportunity is considerable, and we need to grab hold of it."

He, thus, pledged the support of his government for textile and garment businesses and enterprises across Ghana, to create jobs that provide security for individuals, families and communities, explaining that it "falls squarely within our overall vision of making the development of the textile and garment industry a strategic anchor industry for Ghanaian industrialization."



Describing the Dignity-DTRT project as being consistent with his government's vision to make Ghana an industrial hub in West Africa, and, thus, drive the socio-economic development of our country, President Akufo-Addo noted, however, that Ghana's industry has not done well in recent years.

"From a growth rate of 15.1% in 2008, the last year of the government of the outstanding Ghanaian statesman, His Excellency John Agyekum Kufuor, former President of the Republic, growth in industry slumped to 0.8% in 2014, -0.3% in 2015, and further down to -1.4% in 2016," he said.
The President continued, "However, as a result of the relative normalisation of the power situation in the country, and the implementation of our business-friendly policies, industry, for the first quarter of 2017, recorded the impressive growth rate of 11.5 percent, the highest sectoral growth in the economy".

He, thus, applauded the success of a Ghanaian-American company, Dignity-Do-The-Right-Thing Apparel (DTRT), which has majority Ghanaian ownership.

"It has built, within a short space of 3 years, a thriving, commercial-scale manufacturing operation that is achieving world-class levels of production efficiency. This has led it to become the largest clothing manufacturer in West Africa," he added.

To spur on the creation of jobs in the country, President Akufo-Addo noted that his government has set out to build the most business friendly economy in Africa, and is moving quickly to create an environment that will unleash the innovative and entrepreneurial instincts of the Ghanaian people to drive rapid growth and job creation.

The President reiterated that the goal of his government is to "to unlock the full potential of the private sector and the Ghanaian sense of enterprise to create jobs and prosperity for all Ghanaians, and to position Ghana as a preferred investment destination."
Source: www.ghanaweb.com