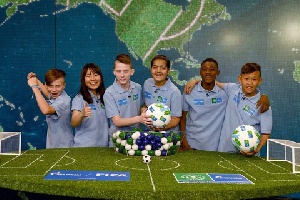 Ghana will make a second appearance at the international children's Social Programme Football For Friendship implemented by Gazprom, official partner of FIFA and the 2018 world cup.
The programme aims at fostering social values as discipline, tolerance, respect for other cultures and commitment to principles of equality among children from all walks of life. The 6th edition will create awareness on endangered spices.

The under-12 programme will have a young footballer and a young journalist who will write stories about the project and also interview famous professional footballers.

Ghana is drawn in Grizzly Bear Group with Indonesia, Kosovo, Eritrea, Qatar, Guyana and Curacao.
Ghana's young footballer at Football For Friendship 2017, Christopher Mensah Sowah and Football For Friendship ambassador for Ghana, Shaibu Ali Ayornu were in Moscow for the the draw budded "2018 Football For Friendship World Championship".

One exciting innovation about the 2018 Football For Friendship project, is that, it's been expanded from last year's 64 to 211 countries and scheduled for June 8th- 15th