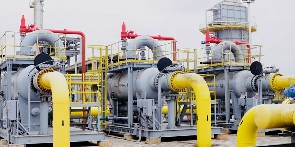 The Ghana Upstream Petroleum Chamber Chief Executive, David Ampofo, has stressed the critical importance of expanding gas infrastructure and enhancing domestic gas utilisation to bolster energy security in Ghana.
Despite the pivotal role of natural gas in the country's energy landscape, he noted that its full potential remains untapped.

One of the key challenges, he highlighted, is the pressing need for a well-defined pricing structure for gas. Such clarity is deemed essential for guiding investments, enabling efficient planning and fostering coordinated implementation within the industry.

"There is no business to be done if there is no agreed price for goods and services. Domestic gas supplies need harnessing and some big decisions need to be made that enable the required investment to take place," he stated.

Mr. Ampofo was speaking at the opening session of the 'Ghana Oil and Gas Conference' in Accra, and noted that increased cooperation between the industry and government is an important ingredient in all we do.
"Businesses operate within a policy framework that determines to a large extent how they thrive. The more detailed, predictable and consistent government policy is, the better for industry. Oil and gas companies are keen to work with government to address constraints facing the industry," he added.

He assured that the Upstream Petroleum Chamber is bent on supporting the creation of a responsive business environment for Ghanaian and international investors taking business risks in the oil and gas sector.

The industry is there to be harnessed. It's an untapped frontier with enormous potential both onshore and offshore. There is much to be done in realising the industry's full potential. It all starts with exploration.

It is in line with this, he said, that harnessing the natural gas which accompanies oil is becoming central to efforts at guaranteeing energy self-sufficiency – noting there is work to be done on this front.
Also, Minister of Energy Matthew Opoku Prempeh noted the impact of the global push to transition to cleaner energy (energy transition) in the oil and gas industry.

He said: "The energy transition is increasingly influencing investments and strategies are diverging. Funding for petroleum projects has become scarce, whereas that for clean energy is abundant."

Due to these constraints, he reckoned that many International Oil Companies (IOCs) as well as international financial institutions which hitherto were the support pillars for exploration and production in Africa have been forced to divert their business portfolios to focus more on cleaner energy projects for security.

Given this and other technical capacity challenges threatening the oil and gas sector, he said there will be a need to turn to indigenous companies, including local financial companies, to develop the hydrocarbon resources.
However, he bemoaned that the majority of these companies lack the full capacity for oil and gas exploration and production – with the few also being risk-averse.

Among other things, the minister also observed that if the demand and support from Western countries (for hydrocarbon products) is not forthcoming: "It might be difficult if not impossible for us to continue exploring and producing our hydrocarbon resources".

He attributed this to the lack of adequate market and infrastructure across the continent, for processing, storage, transportation and transformation of hydrocarbons.

But he said: "We can make progress if we develop our market and infrastructure so as to enable us support and trade among ourselves.
Chairman-Parliamentary Select Committee on Mines and Energy, Samuel Atta Akyea, also speaking at the ceremony noted the oil and gas industry's potential to the economy.

While recognising the significance of other ongoing discoveries, including the Voltaian Basin reserve, he expressed frustration with the potential resources' pace of development.

Because of this, he called for private-sector partnerships to ensure development of the resource.

This year's edition of the Ghana Oil and Gas Conference, which is an annual gathering of players in the oil and gas sector to discuss means of addressing emerging challenges, was held under the theme 'Ghana's oil and gas industry; Prospects and opportunities'