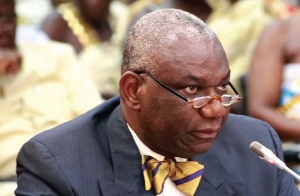 The Senior Staff Association of the Volta River Authority (VRA) has described Energy Minister, Boakye Agyarko, as an 'incompetent' appointee, indicating that contrary to his claims that Ghana will gain $405 million from the new power deal with Ameri Energy, the country will rather lose up to $472 million.
"There is no such savings anywhere in the new contract. This nation will be worse off since Ghanaians will rather be paying an additional cost of US $472 million to Mytilineos International Trading Company for absolutely no work done," Chairman of the Senior Staff Association of VRA, Cephas Duse, stated at a press conference on Monday, 6 August 2018.

He said the amount is "beside the US$255 million we have already paid for the first two-and-a-half years".

"Is it not ironic that in renegotiating a contract which is supposed to have been overpriced by US $150 million, we end up increasing the cost by US$727 million? Is this the type of review we were promised?" he questioned.

Mr Duse stated: "We think that this misleading comparison and computation was disingenuously done by the Energy Minister to deceive Ghanaians. This shows that the Honourable Minister is incompetent, lacks integrity or absolutely not on top of his job".

The VRA Senior Staff Association stated emphatically that the Energy Minister's claim that the Novation and Amendment Agreement will save the country some money, is "misleading, flawed and inaccurate".


The New Patriotic Party (NPP) administration recently began taking steps to amend portions of the controversial $510 million deal signed by the John Mahama administration.

The current government believes that there was no value-for-money in the deal signed by the NDC administration, hence the renegotiations.



The renegotiated deal, which has now been cancelled by the president, was expected to be approved by parliament when the House resumes from recess.

The VRA Senior Staff Association is, therefore, demanding the immediate dismissal of Mr Agyarko.