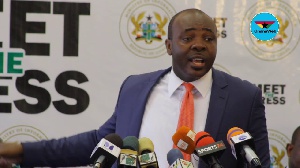 Mr. Isaac Kwame Asiamah, Minister of Youth and Sports has said, Ghana has no intentions of bidding for the 2019 African Cup of Nations (AFCON), though they have all the infrastructure available to host the 24-nation tournament.
According to Mr. Asiamah, Ghana has all the necessary infrastructure to host any Confederation of African (CAF) organized competition, at any given time, but that was not the priority of Ghana now, but to be focused in getting more developments through the provision of additional infrastructure for future use.

In an interview with the GNA Sports, Mr. Asiamah noted that, it wouldn't be a challenge, if we were given the nod by CAF, to host, but it is not our priority.

"We have what it takes as a country to host the rest of Africa at any given time, since we have all the facilities to host.
"We have executed the previous CAF competitions, we hosted very well and nothing proves we can't do same, when given the chance to host, but it was not our priority now.

"We would rather stay focused and add on to the existing facilities," he said.

Cameroon have been stripped off the hosting right by the continent's governing body for security reasons, with CAF declaring the hosting right vacant for interested countries to bid for the tournament which is six months away with countries being increased from 16 to 24.