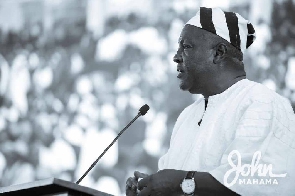 Former President John Mahama says he feels bad about how President Nana Akufo-Addo has ran the country, stressing that the economy is messed up than ever before.
The 2024 flagbearer of the opposition National Democratic Congress (NDC) believes Ghanaians were deceived by the Akufo-Addo-led NPP in 2016 to win power and has failed woefully to fulfil his promises made to the people.

Mahama who was speaking in an interview with Kwaku Sintim-Misa on the KSM show stated that he feels sorry for the teeming youth of the country under the NPP government.

For instance, Mahama recalled how the NPP centered their campaign on his persona and ran him down amid a lot of promises which have become just dreams for the citizens.

He cited high unemployment as one of the worrying situations in the country whereas the people were promised enormous employment opportunities under the NPP government.

"I mean today, this is the highest unemployment in the history of Ghana. So it was just [about] say anything to win political power," he stated.
"NPP came in with a lot of propaganda and they were prepared to promise heaven in order to win political power do a lot of the promises they made to Ghanaians were like just promise anything," he averred.

"I mean I was watching a video of John Boadu saying oh! is it about jobs? If it's about jobs, don't worry. There'll be so much [SIC] jobs that Ghanaians can do [and] we will have to go and bring foreigners to come and work to fill the rest of the vacancies."

To him, the worse fears of the citizens are what they are living under the current government.

Mahama's concerns come at a time the World Bank has revealed that inflation in the country pushed an overwhelming 850,000 Ghanaians into poverty.

The report said the African country's economic crisis last year characterized by high inflation rates had devastating consequences on food security.
Inflation in Ghana soared from 14% to a staggering 54 per cent between January and December last year, making it the highest inflation level seen since the early 2000s.

Mahama said the phenomenon indicates that the President Akufo-Addo has failed woefully but hastened that Ghanaians should have hope in the NDC for a better situation should they vote him to power.

Mahama is confident he will win the crucial 2024 polls and "rebuild" the country's democracy and economy.