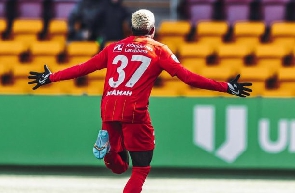 Ghanaian young talent Ernest Nuamah added to his goal tally as he found the back of the net in FC Nordsjaelland's 5-1 loss to Brondby IF in the Danish Superliga.
The match was a crucial one for FC Nordsjaelland, as they needed a victory to stay in the title race. However, their plans did not go as expected against a strong Brondby IF side.

Brondby IF made an impressive start to the game and quickly went ahead in the 2nd minute of the first half, courtesy of Ohi Omoijuanfo's goal.

Before halftime, Mathias Kvistgaarden doubled the lead for the home team, putting them in a commanding position.

In the second half, FC Nordsjaelland attempted to mount a comeback, but they could only manage to score one goal.
Nuamah provided a glimmer of hope for the visitors, finding the back of the net in the 72nd minute. However, it proved to be too little, too late for FC Nordsjaelland.

Brondby IF continued their dominant performance, with two additional goals from Mathias Kvistgaarden and a strike from Oscar Schwartau, securing a convincing 5-1 victory.

Nuamah's goal in this match takes his season tally to an impressive 15 goals in all competitions plus four assists. The 19-year-old has made 33 appearances, showcasing his talent and contribution to the team's attacking prowess.