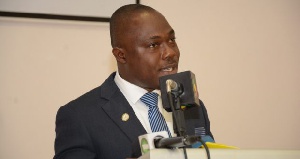 A political science lecturer at the University of Ghana, Professor Ransford Gyampo, has said Vice President Dr. Mahamudu Bawumia's "ballistic" reactions to the description of the National Digital Property Addressing System as `419` scam is uncalled for.
Former President John Mahama addressing supporters of the NDC after a unity walk in Cape Coast said the NPP government must hold someone accountable for paying for a service that is available on mobile phones already through google map.

"…Otherwise, how can you launch a whopping GPS system that is freely available on our mobile phones and say it is the best national addressing system?… It's such a pity. Why would you embarrass the president so much?" he quizzed to the admiration of the NDC gathering.

In his reaction, however, Dr. Bawumia went haywire, scathingly attacking the former president and also urging him to desist from ignorantly "parroting propaganda."

"For former president Mahama to claim that Ghana's NDPAS and the accompanying GhanaPostGPS app is a 419 scam demonstrates a complete lack of understanding of the system. We have been witnesses to 8 years of his governance as vice president and president and we know what 419 scams look like," he said.


He continued, "We know a 419 scam when we see one and that, unfortunately, was the hallmark of the administration of former president Mahama. Ghanaians will find out more soon as people are held legally accountable. With the record that former president Mahama has in the area of governance, it is incredible that he would have the effrontery to talk about 419 scams."

Commenting on the development on Morning Starr Tuesday, November 7, Professor Gyampo argued Dr. Bawumia should have bequeathed the responsibility of responding to Mahama to other party officials or functionaries.

"Generally, I am in pain and that the vice president should go back to his posturing as a father of the nation and also take note of the fact that his office is just a heartbeat away from the president. And so, some of these things he can leave it to other offices to handle and focus on helping the president to deliver on their promises," Professor Gyamp told Morning Starr host Francis Abban.

He added that even though he does not subscribe to the former president's choice of words it is "completely out of place for vice president Dr. Bawumia to respond the way he did."