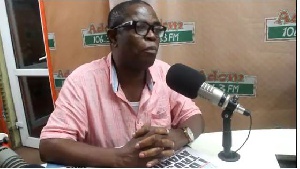 Vice President Dr. Mahamudu Bawumia, on Tuesday, responded to claims by former President John Dramani Mahama over the National Digital Property Addressing System (NDPAS) that he (Dr. Bawumia) has embarrassed President Akufo-Addo by introducing the project.
Ex-President Mahama, addressing party members and supporters at a Unity walk in the Central Region, stated that the Vice President is an embarrassment to the Akufo-Addo administration for having an existing digital addressing system developed for $2.5 million by local IT firm Vokacom, when the same technology could have been obtained from Google on mobile phones without any cost.

The software, Ghana Post GPS was initiated by the government to help digitize the economy.

But to Ex-President Mahama, the system is nothing but a ploy by the government to swindle Ghanaians.

"How can you launch a Google GPS system that is freely available on our mobile phone and say it is a national addressing system. It is such a pity. Why will you embarrass the president so much? You go and take a whole president to bring him to come and launch a system that is 419.

"When we talk about accountability, this is where the president should show that he is serious about corruption...The toughness of the fight against corruption is that you are able to take action against your own people and that is what we did when we were in office. Here the NPP seems unable to take, the president seems unable to take self-action in anything," Mr. Mahama said.
The former President's remarks seem not to have gone down well with the Vice President who replied in a caustic manner during the Consultative Forum Towards A Marshall Plan for Agriculture, saying "when I read his (Mr. Mahama) reasoning for such a description, it was evident to me that he has no clue about what he was talking about and was just engaged in parroting propaganda. I actually had a good laugh. Let me therefore take this opportunity to educate him and others who may think like him about Ghana's landmark digital property addressing which has been achieved in less than one year, something his government could not do in eight years!"



Addressing the Vice President's comments on Peace FM's Kokrokoo, seasoned journalist Kwesi Pratt believes there are serious defects with the GhanaPost GPS that need to be resolved by the government.

To him, it will do Dr. Bawumia much good should he refrain from replying every criticism directed at the project, especially by the former President.

Mr. Pratt, in his submission, further punched holes in the Dr. Bawumia's responses to the Former President.
Quoting from the Vice President's statement that the "NDPAS (National Digital Property Addressing System) is a national database system that provides the digital address for every landed property in Ghana. Basically every 5x5m property has a unique digital address on the grid with region, district and postcode. Under this system, 16.1 billion addresses have been generated for the whole of Ghana...", Mr. Pratt mocked the mathematical calculations by the Vice President saying his "mathematics doesn't work out".



This is because "Ghana's total land area is 238533 square meters. The mathematics doesn't work out. If you divide this figure by 5 meters, you'll not get 16.1 billion. Those who know mathematics and listening to me should their mathematics".

He questioned the uniqueness of the NDPAS because to him, the same opportunities have been created by Google.

To him, it doesn't also make sense to say the system is independent of Google as claimed by the Vice President in his statement that "the NDPAS is independent of Google and any other mapping tool. Google will not give the postcode, region or district for a particular location for example. It will not give you a register of addresses for every user. Banks for example cannot confirm an address by going to Google maps but they can do so through the NDPAS for registered users".
"The same Vice President tells us that it is dependent on Google. If it's independent of Google, it's independent of Google. It cannot be independent of Google and still dependent on Google map. It is not possible...Something cannot be independent and dependent at the same time", Mr. Pratt posited.

He also raised concerns over the multiple addresses the system creates when being generated by users among other issues, saying the system is problematic and unreliable.

"The system can be improved. It can become trustworthy. It can become reliable. As it is now, it is not".