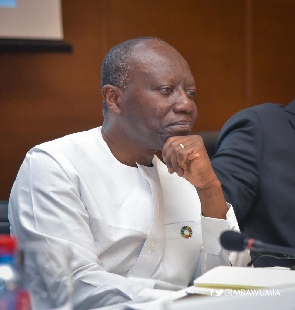 Over 88 per cent of participants in a poll conducted by GhanaWeb have said that they do not support the move by the government to include individual bondholders in its Domestic Debt Exchange Programme (DDEP).
The poll, which was conducted from Friday, January 13, 2023, to Monday, January 16, 2023, had 11,627 readers of GhanaWeb participating in it.

Out of the total number of respondents, 10,259 people, representing over 88 per cent of the participants, said that they do not support the inclusion of individual bondholders in the DDEP.

The majority of respondents who opposed the plan claimed that ordinary Ghanaians should not be forced to bear the brunt of the nation's debt burden because it was the government's fault.

"The individual bondholders cannot be blamed. Those people who were contracting the loans on behalf of the government should have known in advance the impact the loans will be having on the economy as a whole. The people involved must be made to pay for their mismanagement of the economy," one participant said.

"This government doesn't respect Ghanaians. Instead of reducing the number of ministers to twenty and presidential staffers to two hundred, they want to keep the over-bloated government and hanging on arrogantly. The worst government ever," another person said.
Pensioners who took part in the poll said that they had invested all the monies in government bonds and that their inclusion in the DDEP would adversely affect their livelihood.

"As a pensioner, my last born is in Primary School and would reach higher educational ladder soon. I would be so old to do any other work and so I invested in bonds to see her through schooling when the time comes. If Ken Ofori Atta wanted to kill me before my girl child drop out of school, then he should better kill me now not to witness her end of education whilst I would be alive and cannot do anything. We beg him in the name of God not to touch our individual bonds," one retiree said.

However, 963 respondents (8 per cent of participants) said they support the move to include individual bondholders in the DDEP.

Some of the participants who voted in support of the government's move said that Ghanaians must sacrifice for the good of the country.

"We should all understand that there's no financial well anywhere and we shouldn't be expecting any miracle to turn things around. It takes our collective efforts and sacrificing to build the perfect Ghana we all dreams of. Life is causes and effects simple," one person said.
Four thousand and five (405) respondents, representing nearly 4 per cent of the participants, said that there are indifferent on the move to include individual bondholders in the debt exchange programme.

View a summary of the poll below plus some of the comments shared by the participants below:






IB/BOG