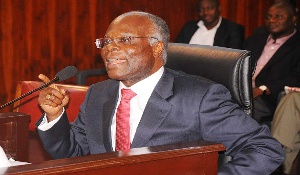 Some 61% of respondents, who took part in a poll conducted by GhanaWeb have said comments made about the Volta and Oti Regions last week by the Member of Parliament for Adansi Asokwa, KT Hammond was ethnocentric.
The poll which was conducted on June 29, 2020, revealed that 3,607 votes representing 61.77% bemoaned the legislator's comments with 2,057 votes representing 35.23% indicating the comments were less ethnocentric.

However, results from the poll also revealed 175 votes (3.00%) had no opinion on the motion.

The comments made by the legislator erupted social media and public outrage as he indicated the government's military deployment to the border towns was to stop Togolese nationals from partaking in the ongoing voter registration exercise.

Others called out the government's intention of the deployment and "ethnocentric bias to intimidate and suppress voters" ahead of the December 2020 polls.

NB: Results from this poll are only representative of participants and therefore can not be generalized.

See results from the poll below:


Background

GhanaWeb launched its polls in May with the first question being: Should the EC go ahead with the new register?

This poll question gained 141,132 responses in 48 hours and over 2,000 people commented under the poll expressing divergent views about the Electoral Commission and the new voters' register.

The GhanaWeb Poll is an open-access poll that allows participants to self-select into participation. The results of the poll cannot be generalized, but are only representative of the participants of the poll.

The poll seeks to enable GhanaWeb readers to predict the opinions of Ghanaians on issues and decisions that affect the country.