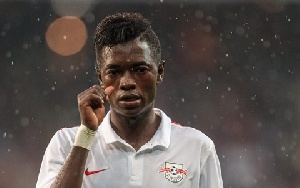 Ghanaian international striker David Atanga has revealed requesting for a transfer move on loan from Red Bull Salzburg to ST. Pölten after struggling to get enough playing time.
The former Bolga Juventus star claims he requested for the move to St. Pölten where he is sure of getting enough playing time to rediscover his sharpness for a better season.

The 20-year old was loaned out to SV Mattersburg last season where he guided the side to escape relegation but sadly fell out of the Red Bull side after picking an early injury in what promised to be a fantastic season.

The Austrian giants announced that the Ghanaian has been dashed out to St. Pölten for the rest of the season, a decision the player has reveals pushing for.

"After my injury, I returned to play in the second team and I did well so I wanted to play in the first team because we're playing in the Europa League.

"I couldn't get enough playing time so I asked if I could go on loan to a different club where I will get enough playing time to really build a better form in 2018 season," Atanga told GHANAsoccernet.com in an exclusive interview.
"I still have a three-year contract with Red Bull but I want to play regularly, 90 minutes each week and keep playing until maybe I can't play no more," he laughed.

The promising forward says he believes the move to St. Pölten is the best for him considering his target for the season.

"So for me, I think it's a good decision to go there and if I regain my form, I can always return to Red Bull.

The Austrian Bundesliga side SKN St. Pölten completed the signing of Ghanaian attacker David Atanga on loan from Red Bulls Salzburg a few weeks ago and will play for them until the end of the season.

Atanga spent last season on loan at SV Mattersburg, where he clocked 15 appearance and registered three goals in life before returning to his parent club at the start of the ongoing campaign.