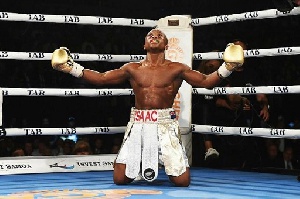 Fri, 22 Jun 2018 Source: Prince Dornu-Leiku
Australian boxing matchmaker and promoter, Mike John Altamura has revealed how a Ghanaian pastor, Prophet Krobia on New Year's Eve anointed his head with oil and predicted that the boxer he promotes, Isaac 'Royal Storm' Dogboe will win the world title this year.
According to Altamura who was in Ghana at the time for Dogboe's interim WBO junior featherweight title fight against Cesar Juarez of Mexico on January 6 this year, he went to Prophet Krobia's Altar of Fire Ministries in Tema to join the church's night service to crossover into 2018 upon the invitation of a lady vocalist and member of the church he met a night earlier at the Ghana People's Celebrity Awards on December 30, 2017 where he had represented the nominated but then in-camp Dogboe.

And it was during the prayer and anointing service few hours into the new year that Prophet Krobia started making prophecies for 2018 and eventually called out Altamura, the only white man at the church and made him kneel, poured a full bottle of anointing oil on his head and declared his blessings.

"Your boxer Isaac Dogboe will become the full world champion and you will become one of the most well-known boxing promoters in the world," Prophet Krobia said before the entire church.

Altamura who made these revelations in his own autobiographical recap of the past 18 months in an article published on Fight News Australia this week entitled 'Mike Altamura: The Fire Within,' also wrote about other prophecies of Prophet Krobia who is fondly nicknamed online 'Son of Mega One.'

"The certainty of Krobia's words stuck with me. He declared major hostility around the world, infighting between Russia and Ukraine, corruption to be exposed in Ghana sport (you hear that Nyantakyi?) and a bunch of other generic occurrences," he stated.
The 34 year old Altamura, started managing boxers at age 17 and has made world champions of Australians Billy Dib and Erin McGowan as well as Dogboe of course now enjoys an almost perfect life, working as CEO of promotional outfit, MJA Platinum and International Consultant for Dubai based sports management firm, MTK Global. He has already boarded 56 flights to 15 countries this year alone already but Altamura says it has not been all rosy, narrating tales from the hard times especially in early 2017 when he almost hit rock-bottom so much at a point he had to release all athletes he had signed up when his Chinese partners couldn't release the funds they were required to. That was also the time he found out how humanitarian the Dogboes were.

"I released all the contracted athletes. One opted to remain loyal. Isaac Dogboe. His father Paul even kindly offered to beat down (Chinese partner) David Pan for the funding alongside me. Class people," he said of the current WBO junior featherweight world champ and his dad/trainer.

"On April 28, in the hometown of Rocky Balboa, in true Philadelphia-boxing tradition, 3-1 underdog Dogboe rose from an opening round knockdown to break down, drop three times, and eventually stop unbeaten Jessie Magdaleno for the WBO World Title," Altamura wrote.

"As his opponent was waved off, Isaac dropped to his knees and gave thanks to his Creator. Prophecy fulfilled. For those previously wondering why I declared that night the most satisfying of my life, now you know why. It encompassed so much more than purely a singular victory," he emphasized.
Source: Prince Dornu-Leiku