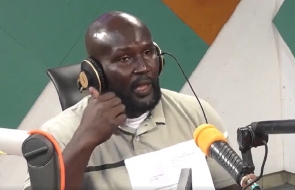 Ghanaian security guard, Abraham Klottey, is demanding his unpaid salaries from FIFA following six months of employment during the 2022 FIFA World Cup in Qatar.
Klottey, who is owed four months' salary, explained that he worked for five months out of the contract before it got abrogated, and was awarded another to work as a bouncer.

"(I signed) six months and worked for five months. In December, they abrogated many contracts, which I was part of. They abrogated it on 14th December...So it was the leaders of the security service and the ministry of interior that said 'this guy, we need this guy. We cannot abrogate his contract'. So they gave me another engagement and made me a bouncer. As the bouncer, I was manning where the security office is, I was in charge," he told Onua TV.

He said that he has not been paid since his initial contract and was offered a tabletop payment of his outstanding fees which he declined.

"The funny thing about the payment issue is that, instead of FIFA paying our monies into our bank account, they were not paying into our bank account, it was tabletop...For me, I raised concerns. They were paying for a tabletop and because of that they told me they will pay me for a tabletop, but I refused. I signed initially, but when I saw the money and the payment method, I refused. I said I'm not interested, so I didn't take the money.

He further explained that the proposed payment method was not on his contract, hence the decline.
"They did tell us they were going to pay us on a tabletop. Because from leaders at FIFA, to the supreme committee to the SSOC and the other categories of Q22 workers no one was paid table top. So, why are we different? Even the cleaners and the facility management were all paid through their accounts. So I didn't know why they were paying us on tabletop. It's because of the cheating."

"I signed a contract (and I was to be paid) 2,700 Qatar riyal. But when I was promoted to become the senior supervisor I was to take 5,500. They owe me four months' salary. When they made me a bouncer, I was to take 10,000," he added.

Regarding the initiatives taken in demand of his money, Klottey said he has liaised with an unnamed foreign media and has already petitioned FIFA.

"We have petitioned FIFA through a certain media house. A foreign media house. They wrote to FIFA but FIFA refused to respond to the letter. The copy of the letter is there but they told me not to mention their name for now. I'm working with some people that I don't want to mention names because they are monitoring what is happening. They want me to go to London to make a case about the issue...When I go to London we will talk about that issue as well."

Abraham Klottey was one of the 4,000 people recruited in August 2020 by Sar Solution Tax Security services, who were in charge of security at the tournament.
Qatar, prior to the World Cup was hit with reports of maltreatment of construction workers as some protested against the Middle Eastern country hosting the tournament.

Human rights issues were raised as the media shed light on how labourers who worked on the construction of stadiums we deprived of their benefits.

Watch Abraham Klottey's interview with Onua TV below



EE/KPE