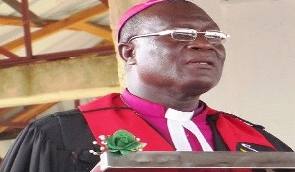 Bishop Bosompem Ayensu of the Methodist Church says there is nothing wrong with the government going to the IMF despite promising not to.
He stated that while the government promised Ghanaians that it would never return to the IMF, it has done so.

He claimed that the country's current circumstances had forced us to return to the IMF and that we should be held accountable for this.

"This is not deliberate. The government had told us that it would not go back to the IMF, but in the past, they told us they would not go. There is a reason for whatever we do," he told Kwabena Agyapong on Frontline on Rainbow Radio 87.5Fm.
He lamented how some Ghanaians keep complaining but have nothing to offer.

"What happened was not deliberate, and if we see anything deliberate, we will talk. People keep complaining the taxes we pay are one too many. Ghanaians are not truthful and wicked. We do not want to help each other. We must be responsible and truthful, and patriotic."

"We should also blame ourselves as Ghanaians just as we blame the government. We keep blaming the government but have refused to blame ourselves for whatever we have also contributed to the mess we are in. What are we also doing to help the country develop?"