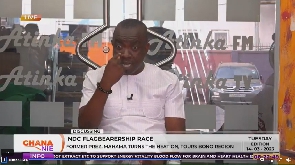 A former Member of Parliament (MP) for Dormaa West Constituency, Mr. Ali Halidu Maiga, says Ghanaians are expecting alternative policies from former President John Dramani Mahama and not insults.
His advice follows comments by the Former President that the 2024 elections will "be a do or die" affair.

In 2021, after the 2020 elections, Mr. John Mahama stated that the 2024 elections will be a do or die affair, saying that the NDC will take all the risks to ensure it wins the election.

According to him, although the NDC performed at the elections, it allowed itself to be robbed by the NPP.

Even recently in the Bono Region while on campaign tour, Mr Mahama repeated that the next elections would be "do or die" and "boot for boot".

The former President has also been seen teasing the NPP-Government over failed promises and how it has mismanaged the Ghanaian economy.
Speaking on Atinka TV's morning show, Ghana Nie with Ama Gyenfa Ofosu Darkwah, Mr Ali Halidu Maiga said he had not seen the Former President telling Ghanaians what is expected of him in order to win their votes, noting that he is either teasing someone or insulting his opponents.

"Let me tell Mr John Mahama that as he embarks on his tour, what Ghanaians want to hear are alternative policies. I have monitored his campaign and there is no single platform that the Former President has stated what he will do when he comes back to power, either he is teasing or insulting," he said.

Meanwhile, he advised that instead of using violence to win elections, the NDC should rather be vigilant and ensure their agents are also vigilant, adding that the NPP used the same method to win the election.

"Where we have gotten to , Ghanaians are discerning, they will not go and fight at the polls in 2024 elections. I agree that the economy is facing challenges, but you cannot blame the current system, there is crisis in the whole world, there is no country doing better after the COVID. Every country is facing challenges and we are trying to restore the economy. But beyond the economy, everything Nana Addo has done is better than John Mahama's. We have built more roads, more schools, and that is what we are presenting in 2024 and how party agents will be vigilant at the polling stations," he said.

He continued, "If you send macho men to the polling stations and you get two votes, you only have two votes, they cannot change it to three."