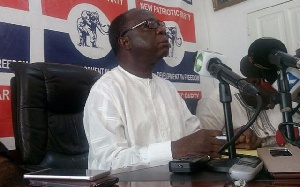 Ghanaians are no longer interested in a government of the National Democratic Congress (NDC) yet the NDC has failed to realise that reality, Acting National Chairman of the New Patriotic Party (NPP) has said.
In an interview prior to the last rally of the NPP on Sunday, 4 December, Mr Blay told Class FM's Paa Kwesi Parker-Wilson that : "They [NDC] are blind, they themselves are blind and do not see that Ghanaians are fed up with them."

For him, the NDC is "out of touch" with reality. He was optimistic that this will be confirmed by victory for the NPP on December 7.
He cited corruption as one main issue that has engulfed the governing party which an NPP government led by Nana Akufo-Addo will not condone.

Even though the NDC government prides itself as having embarked on massive infrastructural development, Mr Blay was of the view that: "a greater percentage of the money borrowed [for those projects] went down the drain due to corruption".