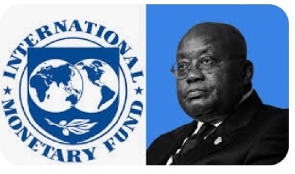 Sun, 28 May 2023 Source: GNA
Rev Dr Samuel Worlanyo Mensah, Economist and Senior Lecturer, Wisconsin University, has urged Ghanaians and industries to brace up for difficult times ahead as IMF conditionalities bite.
He said though the implementation of economic programmes under the Extended Credit Facility (ECF) would help Ghana attain macroeconomic stability, the citizenry would experience some hardships until June 2024 before enjoying some relief. 

Ghana secured a $3 billion IMF bailout last Wednesday, May 17, and on Friday, May 19, the first disbursement of UD$ 600 million hit the country's account. 

The credit facility, which had been the 17th since the country's independence in 1957, sought to put Ghana back on the path of sustainable economic growth.

The $3 billion loan-support programme aimed at making Ghana return to single-digit inflation and attaining a revenue-to-GDP ratio of 18.5 percent by the end of 2025 as well as cover vulnerable households from the impact of electricity tariff adjustment, among others. 

Speaking in an interview with the Ghana News Agency on the conditionality under which the Extended Credit Facility was given, Rev Dr Worlanyo
Mensah, said tax exemptions had been cancelled and that would impact the balance sheets of companies and industries. 

The measures, he said, included the removal of value added tax exemptions, reduction of customs exemptions, and reformation of corporate income tax by phasing out tax holidays and exemptions.

"Increasing progressively in personal income tax is another. That means income tax will be going up," the Senior Lecturer said. 

Another policy action would be that Government would limit the rate at which it could increase the salaries of public sector workers with a possibility of not more than 10 percent. 

Also, the automatical adjustment of fuel levies by exchange rate movement and inflation could adversely impact the poor and vulnerable.
Quarterly tariff adjustment including electricity and water was another conditionality. 

Rev Dr Worlanyo Mensah said the Government could employ only 0.5 percent of the current labour force, adding that such employment would be in three key sectors: health, education, and security with reduced quotas. 

He said the government aimed at attaining a tax-to-GDP ratio of 18 percent before the end of the IMF programme. That he said could result in the introduction of new taxes or an upward review of current taxes 

He also mentioned that there would likely be a second debt restructuring exercise.

Watch the latest edition of BizTech and Biz Headlines below:
Source: GNA