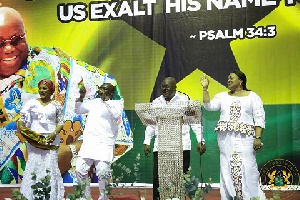 Some Ghanaians have expressed their displeasure in the New Patriotic Party (NPP) government's decision to hold a thanksgiving ceremony to celebrate its 2016 electoral victory.
They expressed their disgust after the government announced and subsequently marked its electoral victory with a thanksgiving ceremony which was held at the Accra International Conference Center on Thursday, December 7.

Whereas many asked the government to direct its energy into alleviating the plight of the suffering masses instead of spending resources on a program which will only benefit the party, others insisted it was needles and only add another burden on the taxpayer.

Sections complained about the unabated hardships they are going through and urged the government to work towards alleviating their plight citing the increasing level of unemployment in the country as well as increasing cost of doing business in Ghana as a result of exchange rate losses and other trade barriers at the country's ports.

They asked the Vice President who doubles as the Leader of Government Economic Team, to put words into action by arresting the depreciation of the Ghana Cedi against other major international currencies and also the make the economy a better place to do business.
"I'm an NPP member but I am yet to feel the impact of the change I voted for. Things are not easy for me at all. Our big men should help us. Ghana is interesting, authorities always finding ways to spend our little resources", a livid Ghanaian posted on facebook.