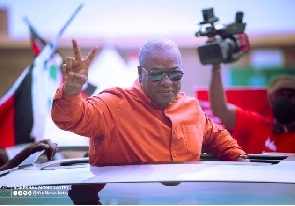 Sat, 1 Apr 2023 Source: GNA
Former President John Dramani Mahama, the National Democratic Congress (NDC) Presidential Aspirant, says Ghanaians are yearning seriously for the return of the NDC government to rescue them from economic hardship in the country.
He said Ghanaians had regretted voting against NDC in 2016 and the 2020 elections and doing so for the New Patriotic Party (NPP) only to mismanage the economy and bring untold hardship.

Former President Mahama said this in an address to separate delegates of the party at Agona West, Agona East and Gomoa Central constituencies as part of his campaign tour to solicit the votes of members to lead NDC as presidential candidate for the 2024 elections.

The former President said the NPP government had destroyed the flamboyant economy and asked Ghanaians to vote against the ruling party in the 2024 elections.

He said the country should not be entrusted into the hands of the NPP again to continue with its experimental policies but handed over to the NDC for better management.

Former President Mahama said the youth of the country were seriously suffering under the bad administration of the NPP government due to the mismanagement of the economy.
"The NPP government under President Akufo-Addo has nothing to offer the nation and there is the need for the people of Ghana to vote massively against the ruling government in the 2024 elections," he stated.

He bemoaned the free SHS policy, which he said was giving parents more headaches due to poor food and short terms associated with the programme.

The Former President said he had the best and more experience to manage the country better and urged the delegates in the three constituencies to give him massive endorsement come May 13. 2023 in the Presidential Primaries to help him lead the NDC to victory in the 2024 elections.

The Former President expressed the hope that the Agona West seat would fall to NDC in the 2024 elections due to sterling performance shown in the 2020 election, which reduced the votes deficit from 12,000 to 2, 000 in 2020.

Mr Alex Asiedu Sekormy, Agona West Constituency Chairman of the NDC, pledged that the delegates would give the former president 100 per cent vote during the presidential primaries slated for May 13, 2023.
He said the delegates in the constituency were poised to work hard to ensure landslide victory for the former president and the parliamentary candidate.

Professor Richard Asiedu, Central Regional Chairman of the NDC, said the delegates in the region were ready to give massive endorsement to the former president in his quest to lead the party as presidential candidate in 2024 elections.

He said Ghanaians were facing a hopeless situation as a result of bad management of the economy by the ruling NPP government and expressed the hope that the NDC central region would work hard to wrestle power from the NPP in 2024.
Source: GNA