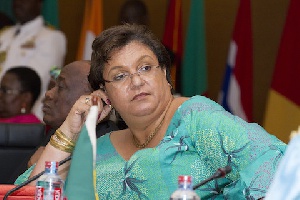 A Communications team member of the New Patriotic Party (NPP) in the Ashanti Region, Mr. Boadi Soadwa has accused former Foreign Affairs Minister in the erstwhile National Democratic Congress (NDC), Hon. Hannah Serwaa Tetteh of perjury regarding the contractual agreement between the government of Ghana and the US on the two ex-Guantanamo Bay detainees brought into the country in 2016.
According to the NPP Communicator, then Foreign Affairs Minister, shielded information of the agreement and refused to disclose full details of it to Parliament of Ghana.

"What Hannah Tetteh and NDC government told us is different from what is coming from government today. …she must be charged for perjury", Mr. Boad Soadwa suggested to government.

According to him, NPP then in opposition knew the two detainees- Mahmud Umar Muhammad Bin Atef and Khalid Muhammad Salih Al-Dhuby will not stay in Ghana beyond two years

"Hannah Tetteh must be hauled before parliament to explain to Ghanaians why they changed the agreement", Mr. Boadi Soadwa spoke on Kumasi-based Nhyira FM's morning show hosted by Aduanaba Kofi Asante Ennin.
Government says it is unable to immediately execute plans of repatriating the two ex-Guantanamo Bay detainees Mahmud Umar Muhammad Bin Atef and Khalid Muhammad Salih Al-Dhuby who have been in Ghana for the last two years because of their refugee status.

The two Yeminis were resettled in Ghana in January 2016 following an agreement between the John Mahama government and the Barack Obama led-U.S. administration.

According to the Foreign Affairs Minister, Shirley Ayorkor Botchwey government will send the agreement to parliament for ratification.

Meanwhile, a former Deputy Attorney General, Dominic Ayine, whose time the agreement was made says claims by the government that it is unable to repatriate the two detainees because of a binding agreement between the previous government and the US are false.