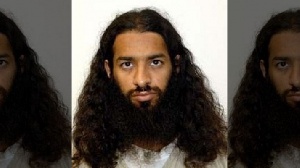 A seven member Supreme Court panel presided over by Justice William Atuguba out of the abundance of caution have decided not to deliver its judgment in the Gitmo 2 case but instead the panel has requested the parties to file further submissions on the effect Articles 83 and 84 of the 1992 constitution has on Article 75 of the same Constitution.
Article 75 of the 1992 constitution further (1) The President may execute or cause to be executed treaties, agreements or conventions in the name of Ghana.

(2) A treaty, agreement or convention executed by or under the authority of the President shall be subject to ratification by-

(a) Act of Parliament; or

(b) a resolution of Parliament supported by the votes of more than on-half of all the members of Parliament.

Article 83 and 84 which bothers on National Security Council also says

84. The functions of the National Security Council include-
(a) considering and taking appropriate measures to safeguard the internal and external security of Ghana;

(b) ensuring the collection of information relating to the security of Ghana and the integration of the domestic, foreign and security policies relating to it so as to enable the security services and other departments and agencies of the Government to co-operate more effectively in matters relating to national security;

(c) assessing and appraising the objectives, commitments and risks of Ghana in relation to the actual and potential military power in the interest of national security; and

(d) taking appropriate measures regarding the consideration of policies on matters of common interest to the departments and agencies of the Government concerned with national security.

The difficulty of the Supreme Court is that they want to be sure if decisions taken in respect of National security interest to enter into agreements with another country can be over turned by the court on grounds that it conflicts with a constitutional provision.

They further explain that as it stands now, the said agreement has already been executed and they are wondering if anything at all can change about it per the judgement of the court.
The court has asked the parties to file further submissions by the 24th of May 2017 and return to court on the 22nd of June 2017 for the judgement of the court.

Background

Margaret Bamful and Henry Nana Boakye last year sued the Attorney General and Minister of Justice as well as the Minister of Interior, accusing government of illegally bringing in the two former Gitmo detainees, without recourse to the laws of the land.

The two plaintiffs were therefore seeking a true and proper interpretation of Article 75 of the 1992 Constitution of Ghana, the President of the Republic of Ghana acted unconstitutionally by agreeing to the transfer of Mahmud Umar Muhammad Bin Atef and Khalid Muhammad Salih Al-Dhuby.

Two Guantanamo bay detainees, Atef and Al-Dhuby had been in detention for 14 years by the United States after being linked with the terrorist group Al-Qaeda.