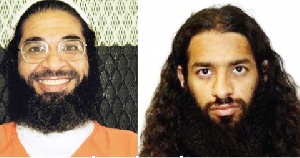 The Government of Ghana has indicted that the two ex-Guantanamo Bay inmates, Mahmud Umar Muhammad Bin Atef and Khalid Muhammad Salih Al-Dhuby, who were brought into Ghana in January 2016, have comported themselves.
The government's statement comes at a time the Supreme Court of Ghana has declared that it was unconstitutional for President John Mahama to have allowed the United States to bring them into Ghana.

A seven-member panel chaired by Chief Justice Sophia Akuffo reached the ruling by a 6-1 majority, with only Justice William Atuguba dissenting on Thursday June 22.

It would be recalled that two plaintiffs, Margaret Bamful and Henry Nana Boakye, sued the Attorney General and Minister of Justice as well as the Minister of the Interior in 2016, accusing government of illegally bringing in the two former Gitmo detainees without recourse to the laws of the land.

The two plaintiffs, therefore, sought a true and proper interpretation of Article 75 of the 1992 Constitution of Ghana arguing that Mr Mahama as President acted unconstitutionally by agreeing to the transfer of Mahmud Umar Muhammad Bin Atef and Khalid Muhammad Salih Al-Dhuby without recourse to Parliament.
But a statement issued by the government and signed by Mustapha Hamid, Minister of Information, minutes after the court ruling said: "Government wants to assure the nation that the ex-detainees who have been comporting themselves well since their arrival in Ghana, continue to be under supervision of the security agency.




"Government is going to take prompt steps to address the consequential orders. In the meantime, government is calling for calm amongst the populace on this matter."