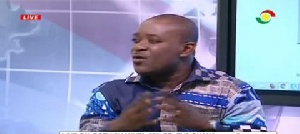 A Senior Lecturer at the University of Education, Winneba, Dr. Ahmed Abdulai Jinapor, has sent a note to the Minister for Health, requesting him to give the public a roadmap detailing how they intend to solve the no bed syndrome that has hit the major hospitals in the country.
He is also requesting for a comprehensive report on the state of the country's healthcare services since that will help shape policy in addressing the challenges at hand.

Dr. Jinapor made these calls when contributing to a panel discussion over the no bed syndrome on TV 3, Saturday, July 14, 2018.

The Ghana Health Service has issued a directive to all government accredited hospitals and clinics not to turn patients away on the excuse that they have no beds.

This directive was spurred by the outcome of an investigation into the death of a 70-year old man who was alleged to have been denied admission by seven government hospitals, including Korle Bu Teaching Hospital, because of unavailability of bends.
Several patients have also gone through same ordeal with the issue provoking a national debate as to the way forward in averting such occurrence.

To Dr. Jinapor, when he first heard about the issue, he thought it was a minor one until he realized that it has become a national issue.

In addressing the issue, he said the Minister of Health should first tell the public the state of the country's health facilities.

"Is it the case that there is so much pressure on the limited facilities that we have? What is the capacity of Korle Bu in terms of admission? What is being done in terms of trying to deal with this issue in the short, medium and long-term? So, we need to know whether the facilities at Korle Bu whether it is in a position to admit patients or not and what is being done about it. We need to know because health is something that we cannot play games with. Of course, I have heard people try to play politics with it but it should be a collective responsibility", he noted.