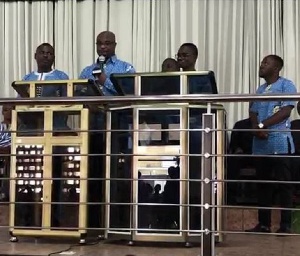 Chairman and owner of multinational Ghanaian company, First Sky, Mr. Eric Seddy Kutortse has urged Ghanaians to adopt an attitude of giving and generosity towards the less privileged in society as it is more rewarding and attracts blessings.
Speaking to the Evangel Assemblies of God congregation during a visit to thank its members for their support towards the company's 15th anniversary, Mr. Kutortse indicated that the company has made strides and has attained its current heights as a result of its contribution to supporting worthy courses in society.

He maintained that the company considers it obligatory to support orphans, individuals, state institutions and other institutions who may be faced with financial constraints.

Mr. Seddy Kutortse mentioned that the benevolence of the group over the years was achieved not as a result of abundance of riches but in accordance with the word of God.

"We do not have in abundance but by the obedience of God's word we give in expectation of the fulfillment of his promises in our lives and Isaiah 58: 10 has been our driving force as a group" he said.

He stressed on the importance of giving and the fact that Christians are entreated by the bible to give alms to the needy and the oppressed.

"While stressing the importance of giving even in the face of scarcity, Mr. Kutortse admonished all to ignore rumors making rounds suggesting that the company is giving only out of its surplus and abundance
"We are required to give not only when we have in abundance but even in scarcity" he noted.

He said, the group was grateful to God for his immense mercies and faithfulness thus the chosen theme for their celebration "declaring 15 years of God's faithfulness."

First Sky Group is known for its support towards institutions and private individuals as it has instituted scholarship schemes for brilliant but needy students across the country.

Philanthropic Gestures

Whilst many would have used their wealth for acquiring luxuries for themselves and immediate families, the First Sky group has impacted Ghanaian lives, largely making lives brighter for the needy and less privileged persons in society.

As part of its Corporate Social Responsibility (CSR), the First Sky Group has a policy which is more sympathetic toward supporting social and religious courses under which it has assisted many individuals and organizations.
These range from construction of 50-seater ultra-modern and well-equipped Information Communication Technology (ICT) Centers; offering full scholarship to over 50 Senior High School (SHS) students annually, from his alma mater; paying in full, hospital bills for all patients at the Renal Dialysis Unit of the Korle-Bu Teaching Hospital - by making treatment of the kidney diseases free of charge at the facility, among others.

The First Sky Group also recently donated five brand new Toyota Land Cruisers and a Pick-up Truck to the Assemblies of God Church, Ghana, for its missionary works to assist spread the Gospel.

The company led by the Chairman, Mr. Eric Seddy Kutortse presented 15 set of musical instruments to churches across the country and handed over new sixty (60) church buildings with a seating capacity of 450-650 worshippers, to the Assemblies of God Church, 30 each to the Eastern and Volta Regions.

The company has also provided several decent houses for retired Ministers of the gospel. The latest donation done by the group was a donation of a cheque of GH¢1 million towards the construction of the National Cathedral.

In his remarks, Mr. Seddy Kutortse gave a cheque of GH¢20, 000 to the Evangel Assemblies of God and promised to clear all the outstanding debts the church owes on its sound equipments.