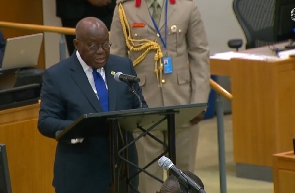 President Nana Addo Dankwa Akufo-Addo has taken aim at the international system describing it as "morally bankrupt."
The president, whiles speaking at a UN event in New York on March 29, 2023 said Africa was the biggest loser in the skewed global system.

He stressed that it was time for the continent to cater for itself having historically taken care of the world.

"I echo the @UN Secretary-General: The international system is morally bankrupt. Throughout history Africa has taken care of the world. It is time Africa takes care of itself.

"The state of African economies shows a deficiency in global financial & trading arrangements defined to work against Africa & her people. I support the

@UN SG's assessment: the international financial system is morally bankrupt as it favors rich countries against the less rich."
He continued: "All of us have a duty to contribute our quota in changing Africa's narrative and asserting an African personality that is dignified, respected and treated with equality, globally."

The president left Accra on March 28 and arrived the same day after a 13-hour journey in the US to participate in the meeting.

He was the keynote speaker at an event themed: "Towards Eliminating Racism and Discrimination Against People of African Descent."

The UNAIDS boss in her address mentioned the role Ghana under Akufo-Addo continues to play in "strengthening consciousness of people of African descent & mobilising against racism."

Other speakers in the event were: the United Nations Secretary General and his deputy; Antonio Guterres and Amina J. Mohammed respectively.
The UNAIDS boss, Winnie Byanyima and Majankunyane Gumbi, the Special Advisor for Addressing Racism in the Workplace, United Nations, also delivered addresses.

"Nana Akufo-Addo, we are proud to have you at our side. Ghana has played a historic role in strengthening consciousness of people of African descent & mobilising against racism. ???????? paved the way in decolonisation. You are continuing its commitment to Pan-Africanism," Byanyima said.

The event at which he spoke was in commemoration of the International Day for the Elimination of Racial Discrimination and the International Day of Remembrance of the Victims of Slavery and the Transatlantic Slave Trade.

Watch the latest edition of BizTech and Biz Headlines below:






Watch the latest edition of Business Moments below:




SARA