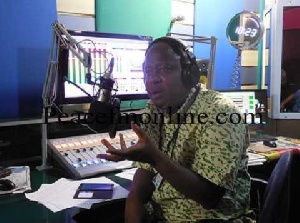 Broadcast journalist and host of Peace FM's flagship programme "Kokrokoo", Kwami Sefa Kayi has lightheartedly asked astute journalist Manasseh Azure Awuni to "go and sin no more" in the manner of NPP MP, Ken Agyapong, after Mr Awuni apologized to the IGP, David Asante-Apeatu for reportedly likening the security camp's inability to fight vigilantism as a "castrated pig".
Manasseh Azure, according to reports, is quoted to have said the IGP is "impotent" in resolving issues that put Ghana's security into jeopardy.

On Monday, February 4, 2019, Manasseh Azure wrote an article titled "MANASSEH'S FOLDER: Why Akufo-Addo's peace hymn is worse than Mahama's war song" in protest against President's Akufo-Addo's condemnation of the Ayawaso by-election violence and his call on the IGP and the police to investigate the matter.

His point was that the President had made similar condemnations in the past which yielded no positive results so far as the fight against vigilantism was concerned.

Although he didn't describe the IGP as a "useless pig", there are reports circulating online that the journalist had used such a term to label the IGP.

Manasseh Azure seems to have provoked the Police administration, as the security agency, in a statement by the Police Public Relations Officer, ACP David Eklu indicated that the Administration "take strong exception to the type of language used and we take strong exception to the imagery".

ACP David Eklu added that Mr Azure's character doesn't reflect the professional standard of journalism in the country.


"It is unGhanaian, it is in bad state and does not reflect the standard of journalism that we expect in this country. If you choose to use a language that does not reflect the standard and cultural values in this country, then you are not practising a professional job".

When the issue was brought up for discussion on PeaceFM's "Kokrokoo" show, by former NPP MP for Bantama, Hon Henry Kokofu, the host of the progarmme, Kwami Sefa Kayi popularly called Chairman General sought to put up a defence for his colleague journalist saying he (Sefa) does not believe Manasseh would call the IGP a "useless pig". To him, perhaps the phrase was used metaphorically.

He, however, hoped that Mr Azure Awuni, would render an unqualified apology to the IGP if inded the media reports were accurate.

The prolific writer later called into the show and duly appologised saying he didn't mean to sound offensive but if Mr. Asante-Apeatu and the Police Service "take offence of that expression that, in dealing with political vigilantism, the IGP takes offence that I compared his weakness to that of a castrated pig; if they take offence, I duly apologize. I did not call the IGP a useless pig or I did not call the IGP a pig".


Thereupon, the host told Azure to "go and sin no more" if he indeed he used those words as an imagery but is now repentant.

"Manasseh Azure Awuni is not that character. So, it is difficult for me to believe that he will deliberately insult, disrespect or malign or denigrate the IGP ....go and sin no more," he added, perhaps as a subtle shade at Hon Kennedy Agyepong.

The Assin Central legislator, on Thursday, was asked by Parliament to apologize to the House and also put up a good behaviour.

This came after the Privileges Committee recommended to parliament to either suspend or reprimand the lawmaker for referring to the House as useless in a TV interview.

The House concluded that Kennedy Agyapong was "wrong" with his choice of words and the Speaker subsequently asked him to apologize and "go and sin no more".