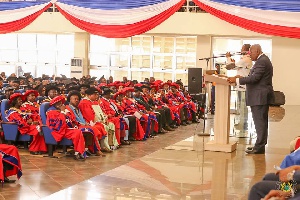 President Akufo-Addo has appealed to the conscience of lecturers at the University of Education Winneba (UEW) to go back to the classroom and resume full teaching.
He believes their continuous absence from the classroom is affecting productivity with a dire consequence on the country's education sector.

Addressing the second session of the 21st congregation ceremony of University over the weekend, President Akufo-Addo said "like all of you, I am aware of the recent happenings at UEW."

"Disturbing as they were, it is noteworthy that it appears that finality is being brought to bear on the matters," he noted.

That notwithstanding, he was of the firm belief that "the current challenges, in my view, can be best surmounted if all stakeholders act within the confines of the law and respect the rule of law."

While he underscored the fact that court decisions may not always be pleasant, he insisted that "they are in principle the surest way of resolving disputes, let us not through our utterances, actions and inactions undermine the authority of our courts."
He therefore urged the newly constituted Governing Council of the University to do all within its power to ensure an amicable settlement of all matters currently pending before the Winneba High Court.

"In the same vein, the chairperson of the governing council must urgently ensure that the Council puts in place measures to seal all loopholes of waste and the abuse of public funds," he noted.

"I encourage all lecturers to resume full academic duties and use the university's processes to resolve any outstanding grievances."

The President stressed his government's commitment to facilitating teacher training nationwide, as well as special incentives for them, such as support for teachers to acquire their own homes, in collaboration with the Ghana National Association of Teachers, NAGRAT and other teaching associations to facilitate an affordable housing scheme for teachers.

"We will also support teachers to enroll in Distance Education programmes to boost their capacity. This is in line with our policy of motivating teachers and rewarding their hard work in the classroom," he pledged.
He said, "From September, [government] is re-introducing the teacher training allowance that was cancelled by the previous government."

He also indicated "as a policy, my government is going to partner and support UEW, as well as all the other public universities in the country, with the aim of raising and improving standards so as to be able to compete with the best on the continent."

"Ghanaian universities should be ranked amongst the top 10 on the continent, this is not beyond us to achieve, and my government will ensure that universities are equipped with the requisite logistics and guarantee that lecturers are well motivated to achieve this feat."

With that said, President Akufo-Addo indicated that "research and innovation will be at the heart of education in Ghana, this would ensure that our graduates from our educational institutions enter the labour market, well-equipped with skills for good-paying jobs."