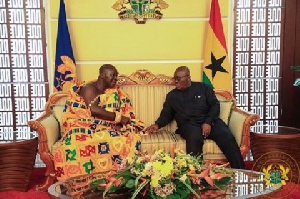 His Royal Majesty Otumfuo Osei-Tutu II has said he is not interested in ruling Ghana as Asantehene, but rather, he is interested in sowing seeds of peace and unity between various ethnic and tribal groups in Ghana, as one disturbance in any part of the country on tribal lines, spills over to affect others living else where, MyNewsGh.com has filed.
According to him, God has made him and his throne great, and wouldn't need to rule Ghana to prove a point.

Otumfuo was speaking at the last Akwasidae festival for the year over the weekend when he hosted Tobgui Sri III, the Awoemefia of the Anlo Traditional Area in the Volta Region as his special guest of honour.

"Although I'm the Asantehene, I'm affected when there are disturbances in the Volta Region or in Dagomba land. God has already made the Asantehene great, so, I'm not interested in ruling Ghana, I rather want peace and unity, that is why I invited Togbui Sri III to join me celebrate Akwasidae," Otumfuo said.

One of my cardinal principles as Asantehene is to ensure that all tribal groupings in the country stay united with a common destiny and it's never my intention to rule Ghana."

On Ashanti-Ewe relationship, he said:"Ewes and Asantes are one people and we never fought. As Asantehene, I want unity and my priority is to unite all Ghanaians." he said.
"We were brothers until politicians came in, the Asantes and Anlos never fought even during the olden days when tribal groupings fought each other over territories." he added.

"The chieftaincy institution predated partisan politics, which has introduced lies in chieftaincy and sowing seeds of discord between ethnic groups. Ewes and Asantes have lived in harmony for centuries but politics is trying to divide us.

When Togbui Sri III decided to honour my invitation, there were reports that President Akufo-Addo had influenced my meeting with him but I've not spoken to Akufo-Addo. In Asanteman, we inter-marry, so, let's remain united and live in harmony. The politicians should take their politics and allow us to unite for a better Ghana because before politics all ethnic groups lived in unity".

The Asantehene warned the faceless politicians that are trying to sow seeds of discord between Asantes and Anlo people to "put their partisan politics aside and allow them to continue to live in peace and harmony."