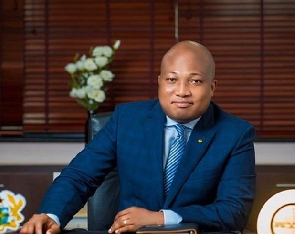 The Member of Parliament for North Tongu Constituency, Samuel Okudzeto Ablakwa, has raised concerns over the appointment of the finance minister, Ken Ofori-Atta, as a caretaker minister of the Ministry of Trade and Industry.
In a social media post, the lawmaker highlighted how Ken Oforri-Atta continuously hurt the country while holding the position of finance minister.

The MP claims that he is in possession of documents that show Ken Ofori-Atta and his spouse being involved in some shady business related to the National Cathedral project. According to him, the minister used his influence as finance minister to persuade the government to insure the entire cathedral through a company to which he is connected to.

"Fresh Cathedral documents in my possession reveal that Enterprise Insurance, a company Ken Ofori-Atta is intimately associated with & where his wife serves as a director was granted a sweetheart deal to insure the entire cathedral construction site. God save the Trade Ministry," his post read.
Fresh Cathedral documents in my possession reveal that Enterprise Insurance, a company Ken Ofori-Atta is intimately associated with & where his wife serves as a director was granted a sweetheart deal to insure the entire cathedral construction site.

God save the Trade Ministry.

— Sam Okudzeto Ablakwa (@S_OkudzetoAblak) January 6, 2023
AM/DA