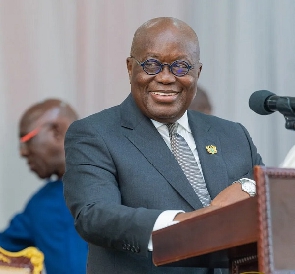 The Minister for Justice and Attorney General, Godfred Dame, had said that the government of Nana Addo Dankwa Akufo-Addo has brought unparalleled improvement to the justice delivery system of Ghana.
According to him, not only has the government brought a much-needed improvement in the human capacity of his ministry and its agencies, but it has also equipped them with the tools to ensure effective justice delivery.

The minister, who made these remarks in a Good Evening Ghana interview monitored by GhanaWeb, went on to list some of the New Patriotic Party government's achievements in his ministry.

Human Capacity:

Godfred said that the Nana Addo Dankwa Akufo-Addo government has boosted the human resource capacity of his ministry by recruiting about 200 attorneys since 2017.

"Last year, 70 attorneys were recruited, the year before 2021, another 70 were recruited. During Madame Gloria Akuffo's time, another 60 or 70 were recruited… and this year I have applied for financial clearance to recruit about 50 or 60 more," he said.
He added that the government has also been offering regular training to state attorneys both locally and internationally, with about 5 of them currently undergoing training abroad.

Infrastructure:

The attorney general also said the Nana Addo Dankwa Akufo-Addo government will soon complete the Law House, which has been under construction since 2003.

He stated that the Law House would be completed within a year and used as office space for the minister and its agencies.

"When I came, I ensured that there was an earnest construction of the project, and I am sure that in about six months or so the Law House will be done… from a state where it was 35 percent complete when I assumed office," he said.
Equipment:

In the area of tools and equipment, he said that some of his agencies did not even have vehicles to run their operations, but between 2017 and 2023, the government procured a lot of vehicles for these agencies.

"My predecessor Madame Gloria Akuffo, believed there were 27 vehicles. Last year, in 2022, on account of the support of the minister of finance and the president's decision at cabinet, I delivered 91 vehicles.

"The Law Reform Commission had only one vehicle, which was way back in 1997; Legal Aid had only about three or four vehicles… I doubled the stock of vehicles available to each agency and each regional office," he said.

Watch the interview below (from 2:30)




IB/BOG