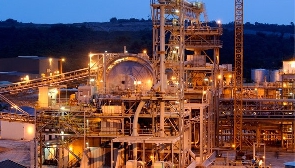 Wed, 20 Sep 2023 Source: Bloomberg
Gold Fields Ltd. will decide whether to keep or dispose of its stake in its smallest gold asset within the next four months, according to interim Chief Executive Officer Martin Preece.
The Johannesburg-listed firm is "exploring all the options" for the Asanko gold mine in Ghana, including a total divestiture or a move to boost its ownership, Preece told Bloomberg.

The company entered into a joint venture agreement to operate the mine with Vancouver-based Galiano Gold Inc. in 2018. It produced 170,342 bullion ounces last year but expects output to drop to 120,000 to 130,000 ounces in 2023 as the asset ages.
"One way or another, I think in the next three or four months we'll have a resolution on the way forward with Galiano," said Preece Tuesday at the Denver Gold Forum.

Preece said the company also plans to announce a new CEO within the next two weeks after recently completing the final rounds of interviews with candidates. Gold Fields is just beginning a search for a new chief financial officer after Paul Schmidt retired in August, he said.
Source: Bloomberg