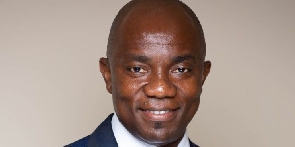 The Chief Executive Officer (CEO) of the Ghana Chamber of Bulk Oil Distribution, Dr Patrick Kwaku Ofori, has said the recent reduction in fuel prices at the retailing pumps has nothing to do with the 'gold for oil' policy as claimed by some factions of government.
He said this while speaking to Accra-based Citi FM which was monitored by GhanaWeb.

According to him, Ghana is not in the position to determine how much it takes to the international market for crude products.

"People shouldn't go out there and create the false impression that 'gold for oil' is going to reduce fuel prices. Ghana as a country does not necessarily determine how much it goes out to the market and then gives for the prices of oil. The volume of product that even comes to West Africa, we don't consume as much as our neighbours in Nigeria and other places. So, we can't necessarily determine how much we choose to buy those products," he said.
Dr Patrick Kwaku Ofori explained that instead of the 'gold for oil' policy, the forex is the key determiner in how increased or reduced the prices of fuel will be.

"Besides that point, the premiums do not necessarily have a significant impact or predictor of the pump price but rather the forex is a major significant predictor of what the pump prices are and that of the international prices," he added.

NW/WA