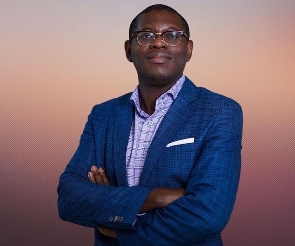 The Vice President of IMANI Africa, Bright Simons, has described the extent of Ghana's involvement in the gold mafia investigative piece as "neck deep".
According to Bright Simons, the architect who was involved in Kenya's Goldenberg scandal was given an award in Ghana by Otumfuo Osei Tutu.

On his Twitter page on March 27, 2023, he wrote: "Ghana is neck-deeper in the Al Jazeera gold smuggling sting than most people know. And the Ghanaian media isn't keen on digging. Anyone remember Kenya's Goldenberg scandal? The Architect was given an award in Ghana linked to a powerful Palace. He was caught in the sting too."

Bright Simons further noted that Ghana has become a very high-risk country for illicit financial flows to the extent that the country has been added to Namibia's high-risk jurisdictions.

He said: "Ghana's entanglements with dodgy money flows across shady jurisdictions have now become so well known, & the political & security establishments are becoming so intertwined with the risk vectors, that even Namibia recently added Ghana to its list of high-risk jurisdictions."

About Gold Mafia Aljazeera expose

One of Zimbabwe's most influential diplomats, Uebert Angel, offered to use his status to launder millions of dollars through a gold-smuggling scheme, during an undercover operation by Al Jazeera's Investigative Unit (I-Unit).
Angel, appointed ambassador-at-large and a presidential envoy by Zimbabwe's President Emmerson Mnangagwa in March 2021, told reporters he would be able to carry large volumes of dirty cash into the country using his diplomatic status.

The 44-year-old, who claims to be a prophet and heads a congregation — the Good News Church — with branches in 15 countries, said he would facilitate a scheme through which unaccounted cash could be exchanged for Zimbabwe's gold. Recipients of the gold could then sell the precious metal for legitimate money, effectively turning their cash clean.

Angel and his business partner Rikki Doolan also claimed that their laundering operations had the approval of Mnangagwa, who has been in power since November 2017, when Zimbabwe's controversial former leader Robert Mugabe was ousted in a military coup.

"You want gold, gold we can do it right now, we can make the call right now, and it's done," Angel told Al Jazeera's reporters. "It will land in Zimbabwe — Zimbabwe can't touch it too until I get to my house. So, there can be a diplomatic plan."

"So, it is a very, very easy thing," he said.

SSD/FNOQ