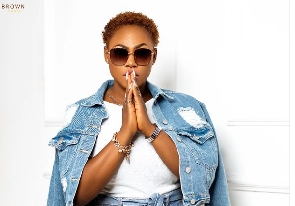 Gospel sensation Joyce Blessing has left her fans in awe with a stunning transformation after posting pictures of herself spotting a new hair.
The new look of the "I Swerve It" hitmaker has got other gospel and industry celebrities responding to her post captioned "I have a covenant with the Lord God. He has promised me so much greatness and surely they will come to pass. On a mission Happy new week Still Unbreakable."

The acclaimed contemporary gospel singer, who has been off the stage for some time, has been breaking her silence with a series of posts on her account.

One of which hinted at an exciting new chapter in her career when she shared on her Instagram account 'unbreakablejb1' trading her rasta locks for a natural hairstyle.

"Life is a journey that has no destination, as we journey through it ,we will fall and we will rise, God never promised us a soft life..

*I am Joyc Blessing* and I am in at the *chapter 2* of my Journey... With your help we will get to that unknown destination.. Watch the space for some big announcements. For 4 years I grew my hair into locks and all is off now. BIG AGENDA *STILL UNBREAKABLE*" she said in her post.

Amidst the buzz surrounding her new look, Joyce Blessing dropped a tantalizing hint about an upcoming "big announcement" referred to as "Chapter 2." This teaser has sparked intense speculation and anticipation among her loyal fanbase, who are eagerly waiting for further details about what this next phase in her career will bring.
While the specifics of "Chapter 2" remain unknown, fans have been busy speculating on its potential significance. Many believe it could mark the release of a highly anticipated album, showcasing a fresh sound and artistic direction for the gospel star. Others say it might represent a major personal or professional milestone, such as an exciting international collaboration or a groundbreaking project with a renowned music label.

As Joyce Blessing's dedicated supporters anxiously await the imminent announcement, her artistic evolution and striking new appearance are poised to shape this exciting new chapter in her musical journey. Fans are eagerly anticipating the changes and are eager to witness the next steps from her camp.

Joyce Blessing is renowned for her exceptional musical talent and captivating stage presence.

Some of the reactions to her post were

empress_gifty "Awwww noko beautiful yes yes ????????????????????"

iammzgee "Unbreakable Joyce Blessing! Much love sissy ????"
gracebrown4624 "Reinvention, I love this one, too❤️. But I am all in with your last post of the short hair❤️. However, I love you either way. You look gorgeous ????"

jayjay_kofi's "Grace and beauty personified ????????????????❤️❤️❤️????????????. Give them ???????????? much love Mama ❤️❤️"

tilly_naa_kai "Unbreakable baako p3"