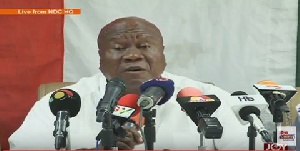 Governance is a "serious business" and not a "tea party", the main opposition National Democratic Congress (NDC) has told President Nana Akufo-Addo saying he must get serious in steering the affairs of the country.
Speaking at a press conference on Thursday, 20 July, Chairman of the party, Kofi Portuphy said President Akufo-Addo must know that "governance is not a tea party, governance is a very serious business meant for serious people and the current president of Kwame Nkrumah's Ghana has to get serious and govern in a more serious manner than he is currently doing."

According to him, Nana Akufo-Addo has been "lavishly" spending state funds on suits and bow ties for his "expensive" state dinners ever since his party won power in the December 2016 elections.

"For a fact, the profligate expenditure that has surrounded all the wasteful state dinners is not the best way of protecting the public purse. On the day of inauguration alone, the Akufo-Addo/Bawumia government spent lavishly on three separate and very expensive state banquets and from that day it has been lavish state banquet after state banquet while innocent Ghanaians are dying on a daily basis because nurses who were given letters of employment by the NDC government have been sacked by Nana Akufo-Addo's government under the guise that there is no money to pay their salary," Mr Portuphy told journalists at a press conference in Accra on Thursday, 20 July.
"Is it not sheer callousness for the government to have money to be importing expensive dinner suits and bow ties from the United Kingdom, Paris and Italy and spending lavishly on state banquets while innocent people die in our hospitals because there are not enough nurses to give medical care?" Mr Portuphy asked.

"Indeed, we are not surprised that in the recent botched diaspora summit, one of the participants boldly pointed out to an arrogant deputy minister of trade that the government needs to be serious and that they are not in Ghana to play," eh stated.