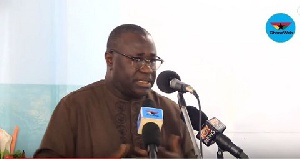 Security analyst Dr. Kwesi Aning has described as worrying aspects of the government White Paper on the Emile Short Commission which investigated the violence which characterised the Ayawaso West Wuogon by-election.
The White Paper primarily said the commission failed to achieve their core terms of reference.

The government position among other things rejected the recommendation of the commission which said the individual who assaulted Ningo Prampram MP Sam George should be prosecuted.

The White Paper also rejected the recommendation which said minister of state at the national security should be reprimanded.

Commenting on the White Paper, Dr. Aning said the government position on the report could be dangerous for the political space.

"In layman's English, the government is saying that if these were to be an examination question, then members of the commission deviated from answering the question."
"That the report does not represent or does not provide faithful representation of the causes leading to the Ayawaso crisis. If we are to accept this interpretation, then there is a fundamental problem, that we need to go back to the drawing board."

"Government said that there was fundamental deviation so everything else that the report says, they will reject it. But doing that as it may, I think it is unfortunate because the whole world watched the discern responses from what ought to have been a coherent set of institutions at pulling in the same direction."

"So to reject that recommendation, once more in terms of command and control and the oversight, who has oversight responsibilities and where the bud stops, doesn't contribute to creating a system that is answerable to parliament," he said.