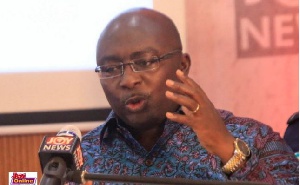 Government has totally banned mining around water bodies in the country.
The move, according to government, is to protect the water bodies from being polluted by miners.

Vice President Dr. Mahamadu Bawumia, who was speaking at a Town Hall Meeting organized by Joy FM in Accra recently said, "We are banning mining around water bodies and making sure there is surveillance around those water bodies."

He further revealed that government had developed a five-year multilateral mining integrated policy to improve the management of small-scale mining to protect the environment.

"Under the Multilateral Integrated Mining policy, we are going to have a sustainable way of dealing with 'galamsey' in the country," the Vice President said.

He said government had identified particular areas for small-scale mining to prevent the miners from mining haphazardly.
"While stopping illegal mining, we are also going to direct the youth to areas that will benefit them. We need to grow this economy and by doing that there will be alternative livelihood," Dr. Bawumia said.

Mining Licence Halted

The Vice President also revealed that government has taken a major step by halting the issuance of mining licenses to address the problem.

"We have suspended the issuance of mining licenses so that we can restructure the sector," he said.

Government Chases Illegal Miners
Meanwhile, the Minister for Lands and Natural Resources Minister, has stated that government will deploy law enforcement officers across the country to apprehend defiant 'galamsey' operators.

According to him, illegal miners, who have defied government's directive to abandon their activities, are engaging in "lawlessness" and must be arrested.

The deployment of security personnel across the country forms part of several initiatives by the government to clamp down on the activities of illegal miners that are destroying the country's water bodies.

Government's 21-day ultimatum to the 'galamsey' operators to end their activities ended yesterday, Wednesday April 19, 2017.

So far about 200 excavators belonging to the illegal miners have been pulled out from 'galamsey' sites nationwide.