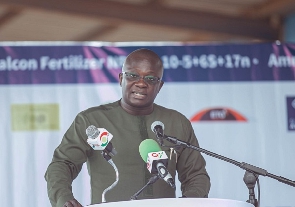 The Minister for Food and Agriculture, Bryan Acheampong has stated that the government has cancelled subsidy intervention on fertilizers for farmers effective April 11, 2023.
According to him, the subsidy cost the nation GH¢3 billion in the last six years, however, it did not achieve the intended purpose due to unbridled corruption that marred the intervention.

"We have canceled subsidy since 11th April, 2023 when I assumed office. Because the subsidy has cost the nation GH¢3 billion in the last 6 years. Yes, it has moved Agriculture contribution to GDP from 2% to about 6% but the amount of money invested and the way the structure has behaved is due to misconducts in the subsidy".

The Agric Minister said "The subsidy was not reaching the farmers but the people in the middle colluded such that the farmers were not benefiting from the subsidy. I believe if they were really benefiting in the full hog the way the government intended it would have been better."

Bryan Acheampong, however, hastened to add that government will soon introduce a guarantor system where the government will guarantee the supply of fertilizers to farmers to repay after harvest.

"With this new program, there will be no subsidy. You don't also have to come up with that GH¢85 that you have to pay. What the government is going to do is to sign an agreement with the suppliers to guarantee for the farmers to provide the fertilizers on credit and after harvest payback".
The Minister said these when answering questions from the local media in Kwahu dubbed "The Big Interview".

Flagbearer of the largest opposition party in Ghana, John Dramani Mahama has consistently lashed out at the government for discontinuing the free fertilizer supply program saying it has worsened the plight of Ghanaian farmers.

He has assured to reintroduce the free fertilizer supply when the NDC returns to power in the year 2025.

However, Bryan Acheampong believes the cancellation of the program and the introduction of the guarantor system are in the interest of the country.

He revealed the government is entering into an agreement with a private fertilizer company in Takoradi for the production of fertilizer using gas waste to mitigate the huge deficit worsened by the Russia -Ukraine war which has disrupted fertilizer production and supply chains globally.