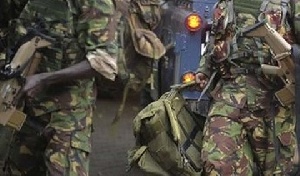 The government is reportedly on the heels of some 38 personnel of the Ghana Armed Forces (GAF) who took home state cars as their End of Service Benefits (ESBs).
They are alleged to have bought the cars from the previous Mahama-led National Democratic Congress (NDC) administration after it lost the December 2016 general elections.

The soldiers, most of whom were attached to the presidency, were not entitled to the said cars.

They have therefore been given up to September 7 to return their respective vehicles which were said to have been bought at cheap prices.

In a letter believed to have emanated from the presidency, the Chief of Staff directed the 'beneficiary' soldiers to return the cars to the Military High Command for refund.

"All documents relating to the sale/purchase of the vehicles should be provided to enable refund to be effected," the letter written on August 6, 2018, said.
It further made it clear that the soldiers were not entitled to "such privilege" hence the decision to ask them to return them.

Interestingly, after the outgoing Mahama-led NDC government sold the cars to the soldiers, the same administration went ahead to include particulars of the sold cars in the hand over notes as part of those they left behind for the incoming Akufo-Addo administration.

Names and particulars of all the affected 38 soldiers plus the make and chassis numbers of the cars were attached to the letter for the attention of the Chief of Defence Staff for further action.

The cars included Toyota Camry, Toyota Corolla, Toyota Avalon, Toyota Avensis, Hyundai Accent, Hyundai i10 and Nissan Sentra.

In all, three Colonels, a Lt Colonel and Major, two Captains, a Flying Officer, 15 WOI, two WOII, 10 Sergeants, one Staff Sergeant, as well as three Corporals, have been listed as 'beneficiaries'.
Post-election sale

The NDC, after its humiliating defeat on December 7, 2016, embarked on the widespread sale of government vehicles and other state property to its members, majority of whom were not even qualified to put in applications to express interest.

They ended up selling vehicles, some of which were just one year old, at ridiculously cheaper prices, setting tongues wagging in the heat of the transition in 2017.

A former presidential staffer under former President John Mahama, Sam Nettey George- who is currently the NDC MP for Ningo Prampram-once admitted that the then government sold cars to its appointees.

"You cannot sell the vehicles to the people before the elections. You will only sell after the elections are done and dusted and you know that people are leaving office", adding "I can bet you, in 2012, very few vehicles were sold between the Mills/Mahama switching into the Mahama administration because it was basically the same party," he said on Citi FM.