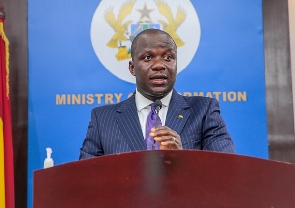 Mon, 5 Jun 2023 Source: GNA
Government has assured the management of AngloGold Ashanti, Obuasi Mine of providing the needed protection of its concessions by warding off all illegal activities that threaten their operations.
Samuel Abu Jinapor, the Minister of Lands and Natural Resources who gave the assurance, said the mining laws would be enforced, adding that, "persons are not allowed under any circumstances to invade or attack AngloGold's concession.

Addressing the media during a working visit to the AngloGold Ashanti in Obuasi, Mr Jinapor said lack of employment could never be a justification for illegal invasion of AngloGold's concessions.

"If you do as these illegal miners have done, you face the full rigours of the laws. You will be arrested, prosecuted and the law will take its course," he warned.

The Minister's visit followed an unfortunate incident last week when some illegal miners invaded the concession of the AngloGold Ashanti, Obuasi Mine.

Mr Jinapor was in Obuasi to meet the Municipal and District Security Councils of Obuasi and Obuasi-East, Traditional Leaders, and the leadership of AngloGold Ashanti as part of efforts to find a lasting solution to the perennial problem.
According to the Minister, the Mine was of great importance to the national economy, which was why it was put under care and maintenance in 2016 because of such issues.

He said the government was working closely with AngloGold Ashanti and other stakeholders to find alternative livelihood support and employment through community mining.

The Minister expressed satisfaction with the outcome of the visit and said the Ministry would follow up and find sustainable and workable solutions to the problem and avoid the reoccurrence of the mishap.

Mr Eric Asubonteng, Managing Director, AngloGold Ashanti, Obuasi Mine, confirmed a total of 96 unauthorised persons had so far been arrested and handed over to the police following the incident.
Source: GNA