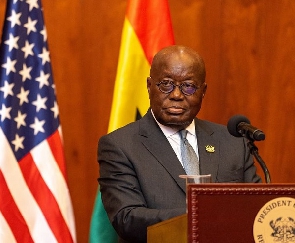 Palgrave Boakye-Danquah, the government's spokesperson on governance and security, has clarified the statement made by President Nana Addo Dankwa Akufo-Addo on the presence of the jihadist group, Al-Qaeda, in Ghana.
Addressing a joint press conference with the Vice President of the United States, Kamala Harris, on Monday, March 27, 2023, President Akufo-Addo said that he does not know if there are Al Qaeda terrorists in Ghana.

"The presence of Al-Qaeda in Ghana? I don't know. Formally, we don't have any information to that effect," he said in response to a question from a New York Times reporter.

"It may well be that there are cells and others already in the country, but those are matters that the security agencies are very much on top of, and we are hoping that there will be no Al-Qaeda presence in Ghana," the president added.

Speaking in an interview on Neat FM monitored by GhanaWeb on Wednesday, Palgrave Boakye-Danquah said that Akufo-Addo, by his statement, was assuring the world about the stability of Ghana.

"The response was to assure that Al-Qaeda was not present in Ghana. As we speak today, we have not arrested any terrorist who belongs to any of the rising terrorist groups in the region of West Africa.
"And also, that the heads of security are doing all they can to ensure [that] if terrorists are present in the country, they will be apprehended and duly prosecuted," he said in Twi.

The governance and security spokesperson added that Ghana and other countries in West Africa are working to ensure that jihadists are booted out of the sub-region.

Watch the interview below:



Watch the latest edition of People & Places below:




IB/SEA