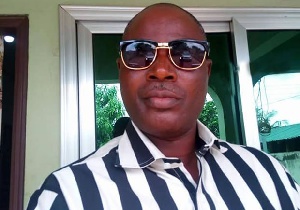 The government of Ghana has released an amount of GHS185,374.85 to the widow and family of the late Inspector Emmanuel Ashilevi (posthumously promoted by President Nana Akufo-Addo to Assistant Superintendent of Police) who was killed in the line of duty on 21 January 2018 when six armed men stormed the Kwabenya Police Station in Accra to free their fellow criminals who were in cell custody.
ASP Ashilevi's family becomes the first beneficiaries of such a package for police officers who may be killed in the line of duty.

Making the announcement at the funeral of the late police officer, Vice-President Dr Mahamudu Bawumia said the government has resolved to "improve and sustain the general welfare of all police personnel" and "support the service in its fight against crime".

"As officers such as Emmanuel Kwaku Ashilevi protect us, it is the duty of the government and people of Ghana to protect them, to protect our policemen and women. The government has resolved stronger than ever, to improve and sustain the general welfare of all police personnel, to support the service in its fight against crime and also to make funds available to the police administration to appropriately compensate all police personnel who get injured or even those who lose their lives in the course of their normal and official duty," he said.
"The President has asked us to look at putting in place a package which is uniformed for all the ranks, for policemen who die in the line of duty. In this regard, Chief Inspector Emmanuel Ashilevi would be the first recipient of this package. The calculation of this package for Chief Inspector Emmanuel Ashilevi and his family, an amount of GHS185,374.85 has been released to pay for all the compensation packages for Chief Inspector which is intended to appropriately support the family and to cater for the children's education," Dr Bawumia added.

The Vice-President also revealed that 122 police officers who were either injured or died in the line of duty are to be compensated. He said the compensation is for those who have applied and have been waiting for it since the year 2002.

"Funds have also been released to pay the compensation packages of 122 other police personnel who either lost their lives or got fatally injured in the line of duty just like Chief Inspector Ashilevi. These payments cover all personnel who have applied and waited for compensation since 2002 and who have not been paid appropriately. All compensation payments being made to all affected personnel or their families are expected to be completed by the end of March this year," he stated.