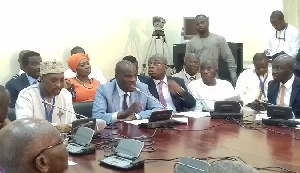 The Akufo-Addo-led government has squandered the gains made in the financial sector by the previous National Democratic Congress (NDC) administration, the Minority in Parliament has said.
The opposition lawmakers said the government has introduced unrealistic programmes and policies which are endangering the financial sector of the economy.

At a press conference on Tuesday, 30 July 2019 to react to the 2019 mid-year budget review presented to Parliament by Finance Minister Ken Ofori-Atta on Monday, 29 July 2019, Mr Casiel Ato Forson, Member of Parliament for Ejumako Enyan Essiam said foreign investors are scared to invest in the Ghanaian economy due to the unstainable policies the government has introduced.

He added that the public debt is also increasing due to the bad governance of the New Patriotic Party administration.

"The Fiscal outlook remains challenging with the fiscal deficit likely to exceed the Fiscal Responsibility Threshold of 5 per cent of GDP. We should expect a fiscal deficit level of 5±2 per cent of GDP.

"Let me put it on record once again that we did indicate that one of the main drivers of depreciation of the cedi, when we issued a statement earlier, was fiscal risk as a result of government policy inconsistencies which is sending a whole lot of negative signals to the investor community," the former Deputy Finance Minister said.
He added: "Investors form rationale expectations based on past experiences. They are aware that the government recently announced unsustainable policies which exert intense pressures on its fiscal position and lead to severe liquidity constraints. These eventually pose challenges for government in honoring its obligations to investors.

"It is unfortunate that less than a year after Ghana exited the IMF programme, our public finances have been severely derailed, and we are at the risk of losing our credibility. Investors are expressing mixed feelings and reactions. It is a mark of policy inconsistency for the government to announce a contractionary fiscal stance and yet assumed the path of expansionary fiscal policy."