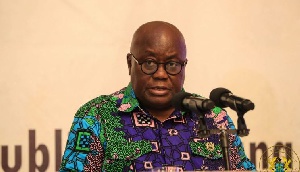 The Trade Union Congress' (TUC) has said the Akufo Addo led government has lost touch with Ghanaians as the administration insists on proceeding with the construction of a national cathedral despite public opposition.
The Labour Union is mounting pressure on government to "shelve" plans to construct a National Cathedral because it is a "misplaced priority," and has asked that monies earmarked for the construction of the multi-million edifice could be put to better use.

The TUC has served notice if the New Patriotic Party (NPP) administration fails to heed its call it will "invite all Ghanaians to join us to campaign vehemently against this misplaced priority and to protect the national purse.

But commenting on the TUC's position on the matter in an interview with Starr News, Deputy Information Minister, Pius Enam Hadzide stated that the TUC's is in the minority as the generality of Ghanaians are in full support of building the house of worship.

"I do not doubt the capacity of the TUC to mobilize but I want to urge the TUC to mobilize people in support of the Free SHS and want the TUC to mobilize people in support of the reintroduction of allowances both to trainee nurses and teacher trainees. I'm not aware of a groundswell against the building of the national cathedral, I know that there are some people who dissent thankfully they're in the minority, the TUC can be in the minority on some matters like this. The TUC is a critical voice out there, major Civil Society group we have in this country but on this matter I submit that they stand alone and the vast majority of people are behind their government and its vision of providing leadership and rallying people about to develop this country especially when the people know that we're not dipping our hands into the consolidated fund. I'm sorry but the TUC will be in the minority on this matter."

However the Head of Research at TUC, Dr. Kwabena Nyarko Otoo insists government is getting it wrong and has refused to listen to the view of the majority of Ghanaians who are against the construction of the cathedral.
"I'm very surprised to hear that it also means that probably people are completely out of touch, but when we get there we'll cross it, when we start the mobilization we'll see whether we're in the minority on this issue. On the question of the cost, the land in question should not be taken for granted that it's just something the state is dashing. It's valued at over $40million so that in itself is a huge contribution. We know of demolitions that will make way for the construction of this cathedral, you should also cost that one.

"Can the Minister tell us the nine judges who have been moved where are they residing and who is paying for that, is it by the churches or by the state. So when the argument is made that the state is not paying anything beyond giving the land then you know that, that argument falls flat in the face."