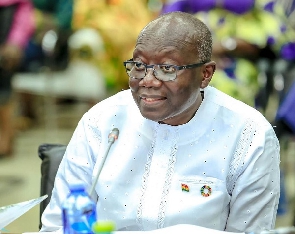 Fri, 24 Mar 2023 Source: GNA
Government says it is confident of getting financing assurances from its external creditors in a short time to secure a management board approval from the International Monetary Fund (IMF).
This is in relation to a $3 billion IMF three-year Extended Credit Facility (ECF) programme, which is currently awaiting the Fund's board approval.

"So far had very positive and encouraging meetings in China," the Ministry of Finance said in a Tweet on Friday.

"Looking forward to securing external assurances very soon, even as we pass our outstanding domestic revenue bills back home. Great progress on all fronts," it added.

The Fund, during a media briefing on Thursday, said that: "Financing assurances from partners and creditors are necessary for presenting the programme request to the IMF'S Executive Board for approval."

The Fund said it continues to engage closely with the Ghanaian authorities while the Government sought those assurances.
"We're calling on bilateral creditors to support Ghana's effort to restore debt sustainability, form an official creditor committee, and deliver the necessary financing assurances as soon as possible," the Fund said.

The Government secured a Staff-Level Agreement (SLA) with the IMF last year and has completed a Domestic Debt Exchange Programme (DDEP), with the expectation of finishing similar exercise with its external creditors.

The DDEP officially closed on February 13, with the Government swapping a total of GHS83 billion worth of old bonds from a possible GHS.

While much information has not been provided on the progress of the external debt restructuring, the Managing Director of the IMF, Kristalina Georgieva, had said the Fund was happy with Ghana's progress to present its SLA for the Fund's review and approval.
Source: GNA