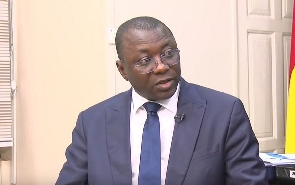 Government says it is actively pursuing measures to bolster energy security and alleviate the financial burden stemming from excess capacity payments to Independent Power Producers (IPPs).
In an interview with Joy News on Thursday, August 24, 2023, the Minister of State in charge of Finance and Economic Planning, Dr. Mohammed Amin Adam, said out of the staggering $1 billion due to IPPs, a significant US$340 million arose from excess capacity that was not utilized - a consequence of the "take or pay" contracts entered into by the erstwhile NDC administration.

"Government has negotiated to pay only for what we consume moving forward," asserted Dr. Amin.

"This strategic shift signifies a departure from the previous practice of compensating IPPs for electricity generation regardless of consumption. This underlines government's commitment to responsible resource utilization and financial prudence," he added.

Elaborating on the measures being undertaken, Dr. Amin Adam clarified that the government's restructuring efforts are primarily directed towards the accrued debt resulting from the excess capacity payments that were not utilized.
He said by focusing on restructuring this debt, government aims to mitigate the financial strain on the state and foster a more equitable energy market.

Dr. Amin further highlighted the government's dedication to transparent financial dealings with IPPs. "Government has paid the IPPs twice since our agreement with them," he said, reaffirming the commitment to meeting contractual obligations while simultaneously seeking to rectify unfavorable agreements.

The Minister of State said this is part of government's broader approach to creating a more efficient energy sector that effectively serves the nation's interests, supporting sustainable growth and resilience in the energy landscape.

Meanwhile, the Electricity Company of Ghana (ECG) has settled debt payments owed to all Independent Power Producers (IPPs) for the months of June and July 2023.
The IPPs, which had earlier threatened to cut power supply from the national grid, have since received a second payment for current bills owed from June 2023 directly from the power distribution company [ECG].

Confirming the development to the portal, External Communications Manager of ECG, Leila Abubakari said all necessary steps have been set in place for the payment of arrears owed to the IPPs.

"We have promised them that the current bills that they raising for us, will be paid because we have found a way of increasing our revenue through our digitalization process and we are now able to collect more than we were able to collect and so the bills that are raised for us on a monthly basis, we are going to honour those ones while we have discussions about how to clear the debt that accrued for the past few years now," Leila Abubakari is quoted by Citi Business News.

"…That is the stage that we are in right now but that is a high-level conversation between ECG, the Ministry of Energy, the Ministry of Finance, and then the IPPs but so far, all is calm, and we are still very much in development partnership, and they are doing their bit and then we are also paying them on all the bills that they are raising for us," she added.
MA/NOQ

Ghana's leading digital news platform, GhanaWeb, in conjunction with the Korle-Bu Teaching Hospital, is embarking on an aggressive campaign which is geared towards ensuring that parliament passes comprehensive legislation to guide organ harvesting, organ donation, and organ transplantation in the country.

Watch the latest edition of BizTech and BizHeadlines below:








Click here to start the nomination process for the 2023 GhanaWeb Excellence Awards