Government paid Adjaye nearly $6m for adding a restaurant to National Cathedral design – Ablakwa alleges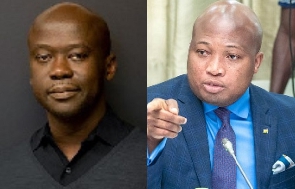 The Member of Parliament for North Tongu, Samuel Okudzeto Ablakwa, has alleged that the architect for the National Cathedral of Ghana, Sir David Adjaye, was paid an additional $6 million just for amending the original design of the cathedral to include a restaurant.
In a series of tweets shared on Tuesday, June 6, 2023, the MP slammed the Nana Addo Dankwa Akufo-Addo government for its continued failure to prioritise the needs of the country given the current economic hardships.

Ablakwa could not believe that the government which says it has no money to pay school feeding caters can afford to pay for works on the cathedral.

"An incredible paradox — a govt unable to feed children in public schools but has absolutely no objection paying a colossal US$5.8 million to Adjaye just for adding a restaurant to his cathedral design.

"The Akufo-Addo/Bawumia govt has told school feeding caterers their demand for ₵3.50 per meal from the current atrocious ₵1.00 which is in constant arrears cannot be met. The caterers have roundly rejected a miserable 20 pesewas increase, setting the stage for a standoff. Unbelievably, a govt that cannot afford to feed its children was more than excited.

"A few months ago, to pay David Adjaye a staggering US$5.8million (₵33.5million at the time) merely for designing a restaurant & extending the Bible museum of the "National" Cathedral which he had already received ₵145 million," parts of the tweet read.
The MP shared a supposed document from the Ministry of Finance showing the said payment.

"Please refer to your letter No. SCR/DE3/296/02 dated 27th April, 2021 requesting the release of US$5.817.769.65 (Five Million, Eight Hundred and Seventeen Thousand, Seven Hundred and Sixty- Nine US Dollars, Sixty-Five Cents) to pay consultancy fees in respect of the Variation Orders for the inclusion of 300+ Seater Restaurant and Expansion of the Bible Museum on the National Cathedral Project.

"We wish to suggest that due to budgetary constraints, the request in respect of the Variation Orders be charged to your funding source while Government take steps to provide additional funding for the project in the course of the year," parts of the document read.

View the MP's tweet plus the document below:


An incredible paradox — a govt unable to feed children in public schools but has absolutely no objection paying a colossal US$5.8million to Adjaye just for adding a restaurant to his cathedral design.

The Akufo-Addo/Bawumia govt has told school feeding caterers their demand for pic.twitter.com/wYpW8wJh5T

— Sam Okudzeto Ablakwa (@S_OkudzetoAblak) June 6, 2023
a few months ago to pay David Adjaye a staggering US$5.8million (₵33.5million at the time) merely for designing a restaurant & extending the Bible museum of the "National" Cathedral which he had already received ₵145million.

God save our Republic ????????

— Sam Okudzeto Ablakwa (@S_OkudzetoAblak) June 6, 2023
Meanwhile, watch the first episode of Everyday People on GhanaWeb TV below:


Watch the latest episode of The Lowdown below:





Meanwhile, watch the first episode of Everyday People on GhanaWeb TV below:


IB/OGB