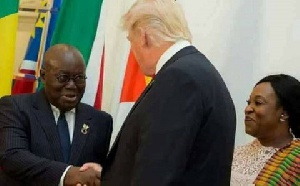 The Government of Ghana has responded to threats by the US Government to impose visa sanctions on Ghanaian citizens, if Ghana fails to respect its obligations under the International Civil Aviation Organisation (ICAO).
A statement published on US Embassy in Ghana's website on Wednesday accused Ghana of reneging on its responsibility to interview deportees on a regular basis and issue them necessary travel documents.

"If Ghana fails to comply with international obligations regarding the issuance of travel documents, the United States may be forced to begin implementing visa restrictions on Ghana, in accordance with U.S. law," the statement warned.

Meanwhile, Ghana's Foreign Affairs and Regional Integration Ministry says the Government of Ghana has communicated the concerns to the country's Embassy in US.

It however implored the US Government to "do due diligence" and establish the nationalities of the deportees before they are issued with travel documents.
"In the spirit of cooperation, therefore, the Ghana Missions have the obligation to ensure that the right processes are followed to verify the identities of subjects for deportation, in order to avert challenges with the Ghana Immigration Service upon the arrival of the latter."

A statement issued by the ministry on Friday said, "The Government of Ghana further remains open for engagements with all relevant stakeholders, to ensure that, the issues are resolved in a manner which will be mutually beneficial to both Ghana and the United States of America."

Find the statement below;