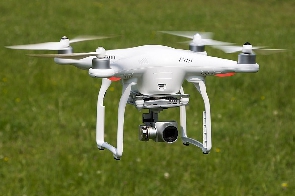 It has been alleged that the drones government bought to supervise galamsey activities in the country have become a white elephant.
The 200 drones, pegged at $3million were non-functional, a tweet by Ghana Mu Nsemsem and sighted by GhanaWeb Business has indicated.

It said, "The government of Ghana in 2020 purchased 200 drones to supervise galamsey activities nationwide at a cost of $3million."

"However, reports indicate that all of these drones are currently non-functional and this is the state of River Ankobra as we captured just yesterday. #OccupyJulorbiHouse," it added.

A video captured also showed how River Ankobra has turned milky brown because of the activities of galamseyers.

It would be recalled that as part of efforts to fight illegal mining, popularly known as galamsey, over 200 drones were procured to take live images in districts where the practice is rampant.
The use of drones was part of the government's grand strategy to effectively clamp down on illegal miners whose activities have devastated the country's land and water resources.

Some security personnel and other persons who will man the devices at the district levels also underwent training at the George Grant University of Mines and Technology.

Read the tweet below;


The government of Ghana in 2020 purchased 200 drones to supervise galamsey activities nationwide at a cost of $3million.

However, reports indicate that all of these drones are currently non-functional and this is the state of River Ankobra as we captured just yesterday.… pic.twitter.com/S8roHC3Vxw

— Ghana Mu Nsemsem (@ghanamunsemsem_) September 26, 2023
SA/NOQ

Ghana's leading digital news platform, GhanaWeb, in conjunction with the Korle-Bu Teaching Hospital, is embarking on an aggressive campaign which is geared towards ensuring that parliament passes comprehensive legislation to guide organ harvesting, organ donation, and organ transplantation in the country.

Watch the latest edition of BizTech and BizHeadlines below: